I followed the instructions to disable Java in Chrome and it was not in the plugin list.(?)
Looking back over the logs, I didn't see Java in Chrome, so no worries there.
Everything else looks outstanding!

Looks like a clean bill of health, so let's remove my tools and create a new, clean restore point on the machine.
Step 1: Tool Removal with Delfix and Creation of a clean restore point
Download Delfix from here
Ensure

Remove disinfection tools

is ticked
Also tick:

Create registry backup
Purge system restore
Reset System Settings

Click Run
The program will run for a few moments and then notepad will open with a log. Please paste the log in your next reply.
You can uninstall ESET Online Scanner at this time.
I recommend keeping Malwarebytes Anti-Malware installed. Make sure to update it and run it at least once a week. If it finds things such as PUP's (Potentially Unwanted Programs) you can delete those with no worries. However, if it finds something like a trojan, come see us.
Step 2: Tips, Information, and Optional Installation of Unchecky
Watch what you open in your emails. If you get an email from an unknown source with any attached files, do not open it.
Install and keep only one anti-virus on your machine. Update it and scan your machine with it at least once a week.
Be careful of the websites you visit.
When installing new programs, don't be "click happy" and click through the screens. Many programs come with adware in them and are set to install them by default. Several programs require that you uncheck or select no to prevent the installation. Take your time and read each screen as you go.
To help protect yourself while on the web, I recommend you read
How did I get infected in the first place?
Installation of Unchecky
This is a very good little program that will automatically uncheck any boxes during a software installation. This helps prevent the software from installing any malware that is by default checked while the program is being installed.
Click here to be taken to Unchecky.com
Click the very large Download button.
Click Save
Once downloaded, double click the program (Vista, Win 7, and 8, right click and Run as Administrator)
Once open, click the Install button.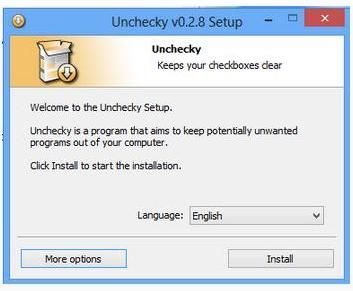 Then click
Finish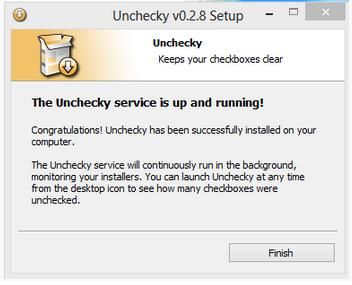 Unchecky is now installed and will help you keep unwanted check boxes unchecked.

Things I need to see in your next post:

Delfix Log