After your help, there is an OAP in the sheltered accommodation that my wife runs that has a problem with is Toshiba Windows 8 laptop
.
just been round there and the laptop has a very strange old fashioned log in screen, the only password he has on the computer dosen't work in this screen, his password is 11 characters long and this screen will only let you put in 10 characters. Pressing the enter key brings up a message saying press enter to shut down computer but this only puts it in standby mode. You can't get past this logon screen to aceess the computer, pointing the mouse to the bottom right hand corner dosen't bring up the windows side bar.
I have tried to turn the computer off by holding down the power button (longest time I tried holding it down for was a minute) but again it only seems to put it in standby mode -my initial reaction is a virus and I had planned to boot in safe mode and re-install a fresh installation of Win 8. 
To make it worse the laptop doesn't have a removable battery I can take out.
I have attached a picture of the screen.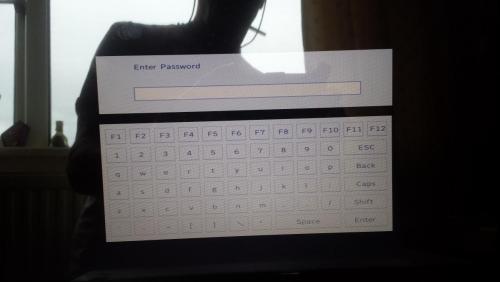 He is lost with out his laptop so any help
 would be greatly appreciated.