Laptop with problem: Panasonic Toughbook CF-52 version G/H
Windows 7 Professional crashed after Windows 10 uninstall. Basically everything back to normal  EXCEPT 1 issue. Unable to select default speakers so no audio with internal speakers. Connect external speakers they work great.  Spent 8 hours searching internet, Microsoft, Panasonic for help.
1. Right click on speaker icon in system tray.
2. Click on playback devices.
3. Sound window opens for you to select speakers. Normally, all 3 buttons at bottom (Configure, Set Default, Properties) light up for you to click on after selecting speakers.
4. With this crash, only Configure and Property buttons light up for you to select so unable to select default.
How do I force  Set Default to light up so it can be selected?
Device manager no problems, no yellow flags, update driver does not work along with a plethora of other ideas that I tried but did not work. Is there ANYONE out there who can help?  The volume photo below displays it is receiving as Windows Media Player works but no sound. No sound from iTunes or computer either but display shows it is receiving as that green line bounces as if it was transmitting the sound.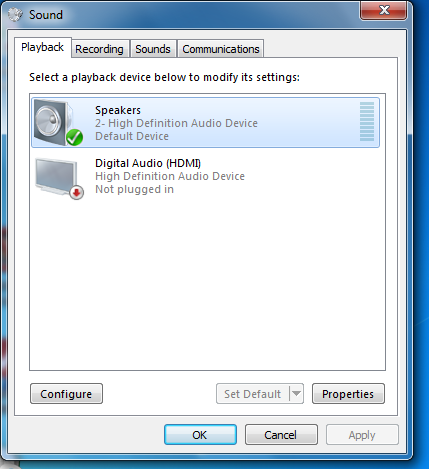 .
Edited by bugsychipr, 18 August 2015 - 05:24 AM.