I have windows 7 sp1. When I visit this web page.....
http://www.ahexp.com...8245#msg-178245
I get what you see in the attachment. I have tried IE, Foxfire and SeaMonkey browsers.
I can access the page fine from my laptop which has windows 8.1.
I have in the past visited this forum and have even posted with no problem.
As you can see the webpage is behind the black frame work looking thing.
I can scroll the web page beneath the frame but I can not click on any links on the page
such as sign in or reply ect... I can click on the links in the black frame and the web page changes
to what I selected but still I can not access that web page.
Any ideas what I can do to correct this? I hope I posted this in the right area.
I just noticed my signature is from my old computer...I'll updtae that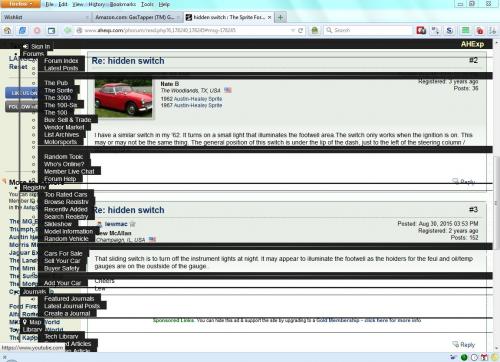 Edited by richocki, 30 August 2015 - 09:26 PM.