Best Answer phillpower2 , 25 January 2016 - 08:50 AM
HWMonitor, Speccy and Speedfan all report a problem with the voltage of the memory controller, MEMORY CONTROLLER: 3.056 V this is way too high, on older MBs the memory controller is controlled by a... Go to the full post »
#16
Posted 22 November 2015 - 03:04 AM
No problem, fully understand that family comes first and thanks for getting back to us 

---
#17
Posted 24 January 2016 - 12:04 AM
Phillpower2:

Hope the New Year has been treating you well. It's been a few months
since my last e-mail but I have finally had time to run the tests that you
suggested. I apologize for the long delay but as I mentioned before, I had
a family emergency. My father had a stroke, but he's doing a lot better now
and has all of the professional assistance that he needs at this time.
It was quite an ordeal and as you can imagine, my computer problems
have been the last thing on my mind.

Unfortunately, as far as the computer is concerned, all of the
memory tests that you suggested failed and I was greeted with the
continuous beeping sound every time I tried booting up the computer
regardless of the memory configuration. I still only get 4 GB worth of memory
when there are two strips of 4 GB in slots one and two. At this point I would be
overjoyed if I could get back my original 8 GB.

Also, a friend of mine gave me a GeForce GTX 680 Video Card for Christmas.
However, I can't use it because I don't have two PCI Express Power cables coming
out of my power supply. My Computer Power Supply is 350W so I'm guessing that
it doesn't support it. If I were to get 750 Watt Power Supply would it come with two PCI
express cables? Would my motherboard even be compatible with a 750 Watt Power Supply?
Or do I already have enough power and just need to get some sort of 6 pin Y-Splitter adapter?

Obviously the first order of business is to get my memory working so I was hoping you had
some more things that I might try.

Looking forward to your rely.

Thank you,

John


 
---
#18
Posted 24 January 2016 - 06:29 AM
Hello John,
No worries about the delay, as said your family comes first and I am pleased to hear that the health of your Father has improved 
The new add on video card needs to be put on hold for two reasons other than not having the correct connections from the PSU. 1: The present PSU is not powerful enough. 2: One or more of your present hardware components is/are defective and it needs to be determined which.
Read back over the thread to refresh my memory and would ask that you do the following for us so that we have fully up to date readings;
Run Speccy and post the updated url for us.
Please take expanded screenshots and only use the method below to attach them.
Download Speedfan and install it.  Once it's installed, run the program and post here the information it shows.  The information I want you to post is the stuff that is circled in the example picture I have attached.
If you are running on a vista machine, please go to where you installed the program and run the program as administrator.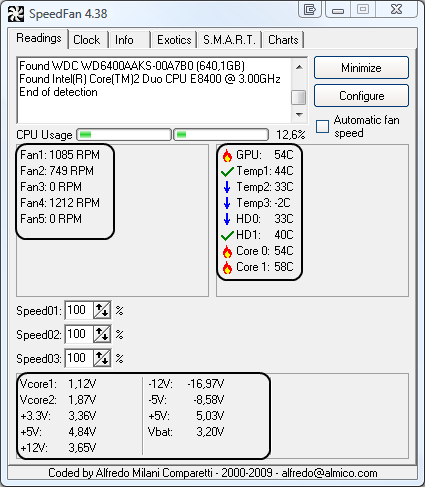 (this is a screenshot from a vista machine)
Download then run HWMonitor and post a screenshot so that we have a comparison to the Speedfan results, details from here
To capture and post a screenshot;
Click on the ALT key + PRT SCR key..its on the top row..right hand side..now click on start...all programs...accessories...paint....left click in the white area ...press CTRL + V...click on file...click on save...save it to your desktop...name it something related to the screen your capturing... BE SURE TO SAVE IT AS A .JPG ...otherwise it may be to big to upload... then after typing in any response you have... click on browse...desktop...find the screenshot..select it and click on the upload button...then on the lower left...after it says upload successful...click on add reply like you normally would.
Screenshot instructions are provided to assist those that may read this topic but are not yet aware of the "how to".
---
#19
Posted 24 January 2016 - 03:34 PM
---
#20
Posted 24 January 2016 - 03:57 PM
Win9x:NO  64Bit:YES  GiveIO:NO  SpeedFan:YES
I/O properly initialized
Linked ISA BUS at $0290
Linked Intel 5/3400 Series SMBUS at $FFE0
Found nVidia GeForce GTX 260
Linked nVidiaI2C0 SMBUS at $3D403E3F
Linked nVidiaI2C1 SMBUS at $3D403637
Linked nVidiaI2C2 SMBUS at $3D405051
Scanning ISA BUS at $0290...
SuperIO Chip=IT8720F


Linked ISA BUS at $0A10
Scanning Intel SMBus at $FFE0...
Scanning I2CNVidia SMBus at $3D403E3F...
ADT7473 (ID=$73) found on SMBus at $2E
Scanning I2CNVidia SMBus at $3D403637...
Scanning I2CNVidia SMBus at $3D405051...
Scanning ISA BUS at $0A10...
IT8720F found on ISA at $A10
Found SAMSUNG HD103UJ on AdvSMART
Found WDC WD5000AAKS-75V0A0 on AdvSMART
Found  on AdvSMART
Bad Attributes Checksum ($C7)


---
#21
Posted 24 January 2016 - 04:08 PM
---
#22
Posted 24 January 2016 - 08:39 PM
Not sure if any of this information is useful, but I came across some
correspondence from a Dell Technician and a user that has a system 
just like mine, the Dell XPS 8000
I have an old Dell XPS 8000 core i7 (860) 2.8ghz system,  with 4gb ram (4 slots.. 2x2gb sticks seem to be installed
in alternate slots with placeholders between?), I've thrown a 550w psu in there.Googling seems to tell me this will support
16gb of ram. Is that right ? I seem to also have a memory of finding out this motherboard is limited to 6gb from looking around
on the web a while back, am I making that up? Is there anything I should know before I go ahead and purchase 2x4gb for an 8gb
upgrade or 4x4gb for a 16gb upgrade... will this board indeed support that. is there any problem with 1600mhz vs 1300 mhz rated
memory. Will I need to change anything in the BIOS to get that working. If what I currently have is indeed 2x2gb sticks, presumably
I could purchase 2x2gb to take it up to 8gb (I'm undecided on 8 or 16, I'm also contemplating an outright replacement to a newer
generation i7 system, but I already have a newer laptop I use a lot, and I figure RAM+GPU upgrade might give me enough reason
to keep using this machine .. ram+ssd should speed up compiles whilst a new GPU should make it decent for gaming .. i could defer
getting an outright new machine)
As far as compatibility is concerned, we hereby confirm that the Studio XPS 8000 Model does support a maximum of 16 GB RAM.
However- Please remain advised that this specific machine was designed to accommodate a maximum memory frequency of 1333 MHz.
We do not recommend users to exceed this specification while choosing RAM modules. Currently, the Official Dell Memory Selector has just
one compatible memory available for sale (New Part) -http://accessories.u...H&mfgpid=203781
This is a 4 GB module, and using 4 of these should upgrade the RAM on your computer to 16 GB.

 
If your Dell computer is presently under warranty, we advise you to use Dell-Branded memory in order to retain the option of availing service/part replacements
for your machine under the service contract. However, if you wish to upgrade via memory modules sourced externally, kindly use the following Dell Part Numbers
as reference in your search:

 
1333 MHz Memory -  60KD4
1067 MHz Memory -  N852H

 
---
#23
Posted 25 January 2016 - 08:50 AM
✓ Best Answer
HWMonitor, Speccy and Speedfan all report a problem with the voltage of the memory controller, MEMORY CONTROLLER: 3.056 V this is way too high, on older MBs the memory controller is controlled by a Northbridge chip embedded into the MB and the voltage should not exceed that of the Ram which in this instance is 1.5V, in more recent processors the memory controller is integrated into the processor itself and the voltage therefore should match that of the processor or be as close as.
HWMonitor reports 3.056 up to 3.072 on VIN1 and Speedfan 3.00V and 3.06V on the VCore and VCore2, if this voltage was going to your processor or Ram they would have fried by now so it is more likely that not enough voltage is being supplied and the readings are out of wack.
Sorry to say but at this point I feel that you are looking at a replacement MB, best suggestion is to have a local Tech confirm this for you though.
Not sure if any of this information is useful, but I came across some
correspondence from a Dell Technician and a user that has a system 
just like mine, the Dell XPS 8000

 
I included that link in my reply #8 

---
#24
Posted 26 January 2016 - 12:35 AM
If I were to replace the Motherboard, what do you feel would be my best course of action?
Are there boards out there that are better than what I currently have but still compatible with
most of my hardware. Or should I consider getting a whole new PC? What's my cheapest option?

If I replace the board and power supply, I would most likely do it myself. Are there any
specific boards and/or power supplies that you would recommend? I also wouldn't mind getting
something that would support the GeForce GTX 680 Video Card that I have. Being that my current
motherboard is six years old, I imagine a lot of the hardware has changed over the years so I'm
not really sure which of my old components I will still be able to hold onto. However, if I am still able to
purchase an older motherboard that will be compatible with most of my hardware, I would be willing
to go that route. Any suggestions that you have would be greatly appreciated.


 
---
#25
Posted 26 January 2016 - 09:04 AM
Your MB is now dated technology and a replacement may not only be difficult to come by but also expensive, your CPU can only be used with the same socket type MB but your other hardware can be used with other types of DDR/SATA standard boards.
The course of action that I suggest, have your present MB tested by a local Tech and use Google to see what socket 1156 micro ATX MBs with 4 memory slots (up to 16GB) are available to you, post what you find and we can take a look for you, please avoid the temptation to purchase anything first and especially not from China.

---
#26
Posted 03 February 2016 - 12:16 PM
How are things going jamarch!
---
#27
Posted 14 February 2016 - 12:30 PM
---
#28
Posted 14 February 2016 - 01:28 PM
The board on ebay is from China so a definite no imo, the less expensive board on Amazon looks ok but the final choice is yours I`m afraid, if me, I would bite the bullet and go for a new MB and CPU that will alllow you to use the 1866Mhz Ram that you purchased, your MB is bad and no longer available as new so you would still be able to use the present OS with it, it may need to be reactivated using the automated Microsoft system, no biggie and doesn`t take long.
If you keep the present CPU then the replacement board must be an Intel 1156 socket type, the size of the board depends on what will fit in your case, a full ATX most likely will as the chassis is the desktop type, always better to have the 4 memory slots.
---
#29
Posted 20 February 2016 - 06:56 AM
Made any progress with the new MB jamarch?
---
#30
Posted 20 February 2016 - 11:12 PM
I think that I will go for your recommendation and get a new MB and CPU that will allow me to use my 1866Mhz Ram. I'd like to stick with the Intel i7 CPU. Any recommendations of MBs tp purchase that come with the Intel i7 chip?
Also, I think that I'm going to need a new power supply as well if I plan on installing the new GeForce GTX 680 PCI Video Card that I have. Any recommendations on Power Supplies and Wattage?
---
---
Similar Topics
Also tagged with one or more of these keywords: Dell, Studio XPS 8000, memory, DDR3, Ram, Bios
Software

→

Applications

→


Started by adamgoodwin98 ,

30 Mar 2021

premiere pro

,

adobe

,

computer

and 5 more...

Hardware

→

Hardware, Components and Peripherals

→


Started by Aragon2020 ,

27 Apr 2020

ram

Hardware

→

Hardware, Components and Peripherals

→


Started by RiffRaffMama ,

03 Apr 2020

rendering

,

Revit

,

GPU

,

Dell

,

AMD

and 1 more...

Hot

83 replies
11,019 views

Software

→

Mobile Apps, Games and Themes

→


Started by Matias Cooke ,

28 Dec 2019

Game

,

Video Game

,

Performance

and 5 more...

Hot

35 replies
14,407 views

Answered Hardware

→

Hardware, Components and Peripherals

→


Started by dominiqueT ,

07 Aug 2019

ram

,

hp

,

upgrade

,

windows 10
0 user(s) are reading this topic
0 members, 0 guests, 0 anonymous users
As Featured On: