Hi,
For some time I have been running TFC as part of a clean up routine, but have missed out for some months now (work issues).
I recently tried to run it then Avast blocked it. I noticed that my TFC.exe file was then missing so I went to G2G to reload a copy. These are the following steps I encounter each time.
1) When I try to download TFC.exe Avast blocks it with the following message:
I turn off the 'Web Shield' function in Avast, then download TFC.exe successfully.
2) When I try to run TFC.exe (as administrator) it is blocked by Avast again, with the following messages

....then followed by the next message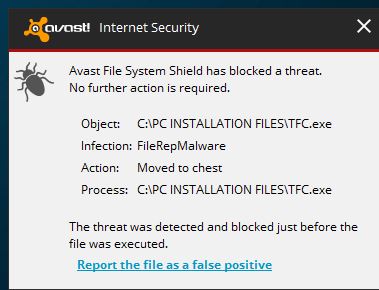 Then I notice that the TFC.exe file has been removed by Avast, apparently to 'chest'...certainly I can not see it in the Recycle Bin folder.
I have been using TFC for some time & have not had this problem.
Is this something others have been seeing?  Any advice or tips for me please?
Any assistance is greatly appreciated! 
Edited by OZDOUG, 15 December 2015 - 03:54 AM.