Yesterday morning, i spilled soda on my Lenovo G580 laptop.. im no expert, but i dont think any of the computer's internal hardware was affected too badly.  it wasnt a huge spill and i took care of the excess liquid pretty quickly.. however, ive been having problems with the keyboard since then.  i can start up the laptop just fine and do all the stuff i want using a wireless keyboard/mouse, but the damaged keyboard periodically enters a bunch of random letters or presses other functions (like the arrow or enter keys) making it impossible to use my computer the way i need to.
at first, i would just open notepad or something to see which key was acting up, and once id figured it out i would mess with the key (manually) until i got it to stop repeating,. but it kept happening and the problem eventually got worse.. now the laptop is turned off and im using a different one.  i have Windows 8.1, in case that somehow matters.
i tried to find out how to disable the broken keyboard until i clean it, or change the default keyboard to the wireless one ive been using, but i couldnt really get much information on either of those methods.  eventually i found an option to disable keyboard/disable device or something, but it was grey and wouldnt let me click it.. it was the same way for the USB keyboard too, and also on my dads Acer Aspire laptop (he has Windows 7).  i tried uninstalling the driver, but it didnt work.  i followed the steps to uninstall, it told me to restart, but when i did it everything stayed the same and the keyboard driver was still there when i checked Device Manager.  i guess i could go to system files or something and manually delete the driver files, but im not sure how effective that would be..  either way i just decided i should clean the thing ASAP.
i found a tutorial that suggests removing each key and cleaning them, but im not sure this would work with my model (see it anyways here).
my other option is apparently removing the keyboard, which im not completely sure how to do.  ive included a picture of the best guide i could find (others exist but this one seems like the most straightforward):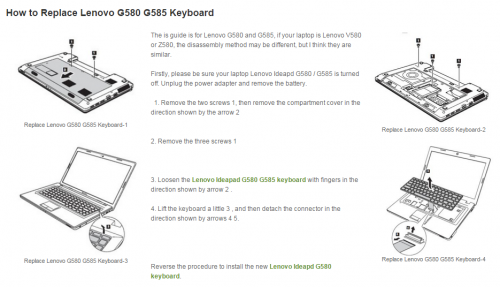 after the damaged keyboard is removed, i would either try to salvage it by cleaning (which im also unsure how to go about) or just straight up replace it.
additionally, i made a picture of where the spill was and which keys were affected (i ripped off the 'i' key because i got annoyed but it still kept glitching, the 7 key was gone when i received the computer, and also the backspace key has never worked).

Anyways, thank you very much for reading all that if you did!! any words of advice or moral support?
TL;DR: Any tips/advice on removing and replacing my laptop's keyboard, or general help with cleaning up after a spill??
Edited by souleater, 02 January 2016 - 05:55 PM.