Windows 8.1 Laptop acting very slow.
Started by
Pepsi_Man
,
Jan 24 2016 12:41 PM
#16
Posted 26 January 2016 - 02:24 PM
Click on the link:
Look up to the left of the URL box.  Does it have a lock?

---
#17
Posted 26 January 2016 - 03:09 PM
Yes, it is there. I took a screen shot to show you:
---
#18
Posted 26 January 2016 - 03:20 PM
Download aswMBR.exe 
to your desktop.
Right click the aswMBR.exe and Run As Administrator
uncheck trace disk IO calls
Click the "Scan" button to start scan
On completion of the scan (Note if the Fix button is enabled (not the FixMBR button) and tell me) click save log, save it to your desktop and post in your next reply
---
#19
Posted 26 January 2016 - 03:49 PM
I am doing the scan now. At the time of this post it was scanning in C:\users\Raymond\AppData\Local\Microsoft\Windows\INetCache\IE\SGJBCKYJ-[Can't see rest because the command window cannot go that far.]
It has completely stalled when it started scanning there. How long should I give it before stopping it?
---
#20
Posted 26 January 2016 - 03:50 PM
OK.  It turns out that it uses Windows Update to run the dism command and apparently that's not working.  
Download and Save the attached repair.zip file
Right click on it and Extract All
Right click on repair.bat and Run As Administrator
Reboot after it finishes
Then try opening running the DISM command as before.
---
#21
Posted 26 January 2016 - 03:51 PM
Give it 5 minutes.  If it doesn't change to something else then stop it
---
#22
Posted 26 January 2016 - 04:58 PM
I gave it five minutes since it stalled on another line and decided to close it. I extracted and ran the fix as you told me. I noticed when it was doing the fix it was trying to stop something but couldn't. I was tempted to run it again and screen shot it for you but wanted to run it by you.
The fix didn't work (edit: Yes I rebooted the system.). I copied and pasted like I did before. Also do you want the unfinished scan log?
Edited by Pepsi_Man, 26 January 2016 - 04:59 PM.
---
#23
Posted 26 January 2016 - 05:22 PM
OK.  Open the elevated Command Prompt as before and copy and paste each line in and hit Enter.
net stop wuauserv
cd %systemroot%\SoftwareDistribution
ren Download Download.old
net start wuauserv
net stop bits
net start bits
net stop cryptsvc
cd %systemroot%\system32
ren catroot2 catroot2old
net start cryptsvc
which line doesn't work?
---
#24
Posted 26 January 2016 - 05:41 PM
net stop wuauserv doesn't seem to be working. I didn't put in the other lines yet. Here is a screen shot:
Want me to run the other lines?
---
#25
Posted 26 January 2016 - 05:51 PM
Yes.  It says the service is not running so we can't stop it.  I expect that's the reason it's not working but let's see if anything else shows up.

---
#26
Posted 26 January 2016 - 06:26 PM
I checked out the rest and here are the results.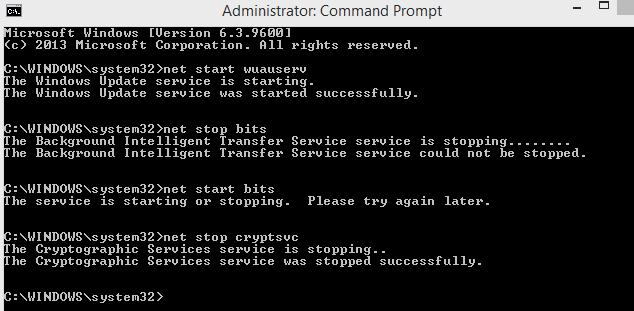 ---
#27
Posted 26 January 2016 - 06:34 PM
OK so BITS is the culprit.
Search for 
services.msc and click on it.
This should open up the Services Windows.  Find Background Intelligent Transfer Service and right click on it and select Properties.
Verify that the Startup Type:  is Automatic (Delayed Start)   then try to STOP the service.  Does it give you an error?  What does it say?
---
#28
Posted 26 January 2016 - 06:44 PM
I found it, I can't stop it because it says its already stopping. Here is the screen shot:
---
#29
Posted 26 January 2016 - 06:55 PM
Can you boot into Safe Mode and stop it there?
http://www.howtogeek...8-the-easy-way/
If you can then run the repair.bat command and see if that helps.
I'm going to be away from the PC for a few hours.
---
#30
Posted 27 January 2016 - 01:57 PM
Good afternoon! Well, I ran it in safe mode. I checked it and it said it already stopped; so I ran the repair while in safe mode. Then I restarted back into normal mode and ran the DISM command again and it still didn't work.
Also, I wanted to let you know that Guitar_Player is my brother and his not around at the moment. Wanted to let you know that since you are working with him too.
---
---
Similar Topics
0 user(s) are reading this topic
0 members, 0 guests, 0 anonymous users
As Featured On: