Cant Access Task Manager While Removing Windows PRoduct KEY [Solved]
Started by
jlperalc
,
Jul 20 2016 12:35 PM
Virus/Trojan/Taskmanager
#61
Posted 22 July 2016 - 03:35 PM

---
#62
Posted 22 July 2016 - 04:38 PM
Hi again.
What I will need you to do is download this fix to your flash drive on the clean computer. Then unplug the flash drive and connect to the infected computer. Go back into recovery environment again to the command prompt and run FRST again.
Step1
NOTICE: This script was written specifically for this user, for use on that particular machine. Running this on another machine may cause damage to your operating system.
Download the attached fixlist.txt to your flash drive.
fixlist.txt
5.13KB
53 downloads
Ensure

fixlist.txt

is in the same location as FRST.exe on your flash drive.

Unplug the flash drive from the computer and plug into the infected computer.

Then



Step2



Boot the infected computer into the recovery environment.


IF Windows can boot to the Login screen but it won't let you login, you can try to get to the Troubleshoot screen by clicking the Power button in the lower right corner of the screen, then press and hold the SHIFT key and click Restart:



You should see a Choose an Option screen:



From there you can get to the Troubleshoot screen.



Click Advanced options. You will see the Advanced Options screen shown below.



Click on command prompt.
In the command window type in notepad and press Enter.
The notepad opens. Under File menu select Open.
Select "Computer" and find your flash drive letter and close the notepad.
In the command window type

e

:\frst.exe (for x64 bit version type

e

:\frst64) and press Enter
Note: Replace letter

e

with the drive letter of your flash drive.
The tool will open.
Press Fix
On completion a log (fixlog.txt) will be generated on the flash drive.

Reboot your coumputer and see if you can now get in normally.

Browse to the flash drive, open up the file fixlog.txt. Copy and paste or attach the fixlog.txt in your next reply similar to what you did with the previous FRST file.

Things for your next post:
Can you now boot up and access your machine normally?
fixlog.txt
---
#63
Posted 22 July 2016 - 05:18 PM
This is the next file.

---
#64
Posted 22 July 2016 - 05:20 PM
yes, I could go in... thank you 
---
#65
Posted 22 July 2016 - 05:33 PM
OK. good stuff so far

Stick with me though as we still have a bit to do.
Now that you are in normally I need more detailed logs to see what's left.
Please download
Farbar Recovery Scan Tool
and save it to your Desktop.
Note: You need to run the version compatible with your system. If you are not sure which version applies to your system download both of them and try to run them. Only one of them will run on your system, that will be the right version.
Right click on the file and select run as administrator (if you don't have this option just double click the file to run it). When the tool opens click Yes to disclaimer.
Press Scan button.
It will produce a log called FRST.txt in the same directory the tool is run from (this should be your desktop).
Please copy (CTRL + C) and paste (CTRL + V) the FRST.txt log back here.
The first time the tool is run it generates another log Addition.txt - also located in the same directory as FRST.exe.
Please also paste that along with the FRST.txt into your reply.


Note: Please do not attach any logs unless specifically requested. It's easier if you simply copy and paste them into your reply. It's OK if you have to use more than one post to do so.



It's late here so I'm going off line again
---
#66
Posted 22 July 2016 - 05:43 PM
---
#67
Posted 22 July 2016 - 06:23 PM
Good evening Bruce;
Here are the extra logs that you needed...
---
#68
Posted 23 July 2016 - 05:59 AM
Hi Joy (if you don't mind me calling you that)
Ok. Now for some clean up time.

Step1 - remove unwanted programs
Please uninstall the following unwanted programs:
CleanBrowser
groover
Note-up
Note-UP
s5mark

Note: If any of the programs are not listed, proceed to the next one and work through the list.
To do this:
Swipe in from the right edge of the screen, then tap Search. (If you're using a mouse, point to the top-right corner of the screen, move the mouse pointer down, then click Search.)
Enter control panel in the search box, then tap or click Control Panel.
Under View by:, select Large Icons, then tap or click Programs and features.
Tap or click the program, then tap or click Uninstall.
Follow the instructions on screen.

Step2 - FRST fix




NOTICE: This script was written specifically for this user, for use on that particular machine. Running this on another machine may cause damage to your operating system.



Download the attached fixlist.txt to your desktop. fixlist.txt 3.15KB

101 downloads

Ensure

fixlist.txt

is in the same location as FRST.exe on your desktop.

Run FRST by right clicking on it and selecting Run as Administrator and press Fix
On completion a log (fixlog.txt) will be generated.
Please select all text in this fix, copy (CTRL + C) and then Paste (CTRL + V) in your next reply.




Step3 - Junkware Removal Tool




Download Junkware Removal Tool by Malwarebytes and save it to your desktop.

1.Ensure all programs and windows are closed before proceeding.
2.Simply double-click the program icon to run it. It will ask for administrator privileges.
3.A black window will appear. Press any key to continue.
4.Wait for it to finish. It won't take long.
5.A log will automatically pop-up once done. Alternatively, you can find JRT.txt at your desktop.
6.Copy (CTRL + C) and paste (CTRL + V) the content of the log in your next reply.
7. Reboot your machine




Step4 - AdwCleaner




Download AdwCleaner from here to the Desktop
Close all open windows and browsers
Double click the Adwcleaner icon to execute the program
When the Tool opens for the first time accept the Terms of use

Click the Scan button and wait for the program to finish.
Click on options tick -
Reset proxy settings
Reset winsock settings
Reset TCP/IP settings
Reset IPSec settings
Reset Internet Explorer policies
Reset Chrome policies
When finished, please click Cleaning button.
Upon completion, click Logfile. A log (AdwCleaner[C*].txt) will open.
Please copy and paste this in your next reply.


Things for your next reply:
fixlog.txt
JRT.txt
Adwcleaner[C*].txt
How is the computer running now?
---
#69
Posted 23 July 2016 - 06:39 AM
Good morning Bruce;
Yes you may call me that...Let's get ready to rumble.....and finish this thing for once jejejeje uff has it been and Odyssey puff I have sweat green jejeje... Well I started your steps.... I'm at step 2...
---
#70
Posted 23 July 2016 - 06:40 AM
By the way you are an early riser or I still dont know the difference in hours..I need to do the research, here is 839 am.

---
#71
Posted 23 July 2016 - 08:24 AM
Ok here are the txts ....The computer is running like it is supposed to.. Thank you Bruce!  What is the next step?
---
#72
Posted 23 July 2016 - 11:52 AM
Hi Joy
Ok. Next couple of steps.

Step1 - Malwarebytes scan
Please download
Malwarebytes' Anti-Malware
from
Here
or
Here
Double-click on
mbam-setup-version-number.exe
to install the application.
Before clicking
Finish
perform the following actions --
Un-check
the box beside Enable free trial of Malwarebytes Anti-Malware Premium.
Check
the box beside Launch Malwarebytes Anti-Malware
Once the program has loaded, The MBAM dashboard may appear with an alert to update - click the button
Fix Now
;
Navigate to the
Settings
tab >
Detection and Protection
and ensure all the boxes under Detection Options are checked.
Return to the
Dashboard
click on
Scan Now
;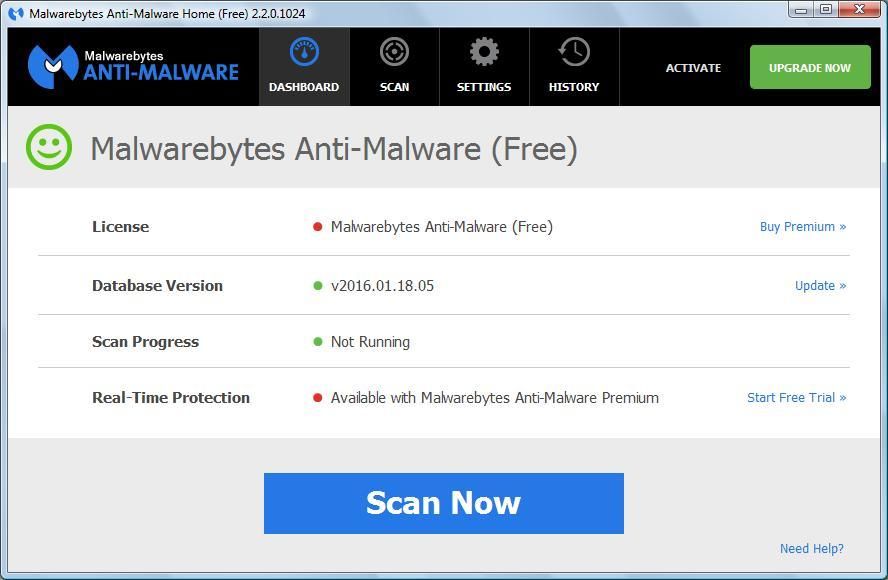 If threats are detected, make sure everything is set to
Quarantine
and click on
Apply actions
. If the program asks to reboot your PC, let it do so;
On completion of the scan click on
History
>
Application Log
. After that click on the top
Scan Log
>
Export
, select
Text File
and save the log to your Desktop;
Copy and Paste
the contents of the log in your next reply.
Step2 - ESET scan

Vista and above users
: You will need to to right-click on the either the IE or FF icon in the Start Menu or Quick Launch Bar on the Taskbar and select Run as Administrator from the context menu.
Note
: You can use either Internet Explorer or Mozilla FireFox for this Scan.
Please go here then click on .
You will however need to disable your current installed Anti-Virus, how to do so can be read here.
If using Mozilla Firefox you will need to download
esetsmartinstaller_enu.exe
when prompted then double click on it to install.
All of the following instructions work with either Internet Explorer or Mozilla FireFox.
Select the option YES, I accept the Terms of Use then click on Start.
When prompted allow Add-On/Active X to install.
Make sure Enable detection of potentially unwanted applications is selected.
Click the

Advanced Settings

link.
Make sure Remove found threats is

NOT

checked.
Make sure Scan archives IS checked.
Make sure Scan for potentially unsafe applications IS checked.
Make sure Enable Anti-Stealth technology IS checked

Now click on Start.
The virus signature database will begin to download. Be patient this make take some time depending on the speed of your Internet Connection.
When completed the Online Scan will begin automatically. The scan may take several hours.
Do not touch either the Mouse or keyboard during the scan otherwise it may stall.
When completed make sure you first copy the logfile located at C:\Program Files (x86)\ESET\Esetonlinescanner\log.txt.
Copy and paste that log as a reply to this topic.
When completed select Uninstall application on close.
Now click on Finish.

Note: Do not forget to re-enable your Anti-Virus application after running the above scan!


Things for your next reply.
MBAM log
ESET log
---
#73
Posted 23 July 2016 - 12:40 PM
---
#74
Posted 23 July 2016 - 01:40 PM
Here are the MBAM log and the ESET log
---
#75
Posted 23 July 2016 - 02:16 PM
Things looking good.

I need a fresh set of FRST logs just to have a final look at things.
Step1 - Please run FRST again
Please run Farbars Recovery Scan Tool again. Run FRST by right clicking on it and selecting Run as Administrator. Allow it to update if it wants to.
Please tick the Addition.txt box under

Optional Scan

.
Press Scan button.
It will make logs FRST.txt & Addition.txt in the same directory the tool is run.
Please copy and paste the FRST.txt and Addition.txt to your reply.
---
---
Similar Topics
0 user(s) are reading this topic
0 members, 0 guests, 0 anonymous users
As Featured On: