Hey 
I have a Dell Latitude E6230 Running Win8 Pro 64Bit
When I boot up I get Invalid partition table and it freezes
The first time I could not do anything. Ran it up with installation usb auto repair did not work. Managed to go to restore point.
The first restore point did not work it was made when installed windows update.
This time I was able to go into F12-> UEFI BOOT -> Windows boot manager 
The second restore point (older one) did work and was told successful. 
When I booted got the same message about the table. Went into the boot sequence ->  Windows boot manager the windows boots all the way up and can log in.
When I shut down or restart I get the same message again.
After searching I understand that I should try and fix the MBR
Went into recovery on windows boot usb -> command prompt  enters the following
bootrec /FixMbr
bootrec /FixBoot
bootrec /ScanOs
  -> after theese I get success
bootrec /RebuildBcd
after this I get
The required system device cannot be found
Picture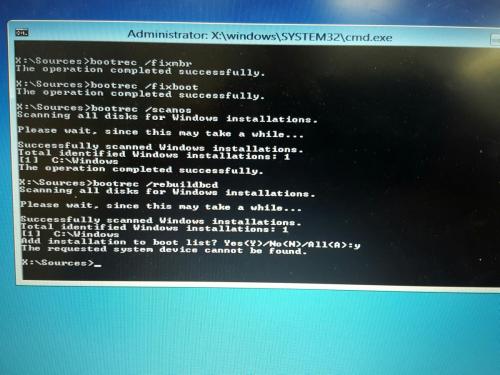 Doe's anyone have another idea ?
Thanks