Hi All,
I'll apologise if I categorized this incorrectly, but I was reaching out in the hopes that someone could help me figure out why I can't access my group policy editor.  I have been trying to open it up so that I could get Windows Defender to scan my system to see if it might pick up on anything Malwarebytes missed (just because as of late my computer has been a bit picky), but every time I try to turn on Defender it says it has been turned off by Group Policy.
Below is an attachment of the error message I receive.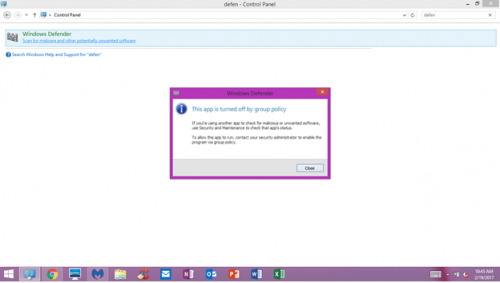 I had been running Windows 8.1, but recently downloaded Windows 10, thinking perhaps the update would solve my problem.  It did not.  I also have a Classic Shell program installed to mimic older windows versions to make it easier for me to navigate.  It's called Classic Shell and published by Ivosoft.  I don't know if that is affecting anything but wanted to point it out in case it was.
I have tried several different methods to open up Group Policy Editor and they have all failed.  Several of the methods I tried are available to view at the following URL: http://www.isunshare...windows-10.html .
Below are two examples of the errors I received: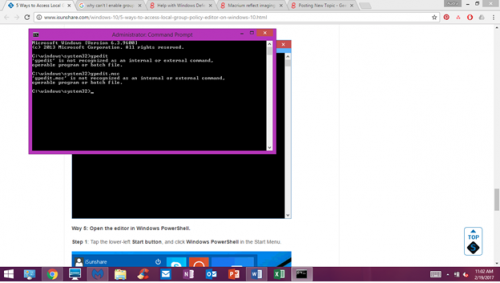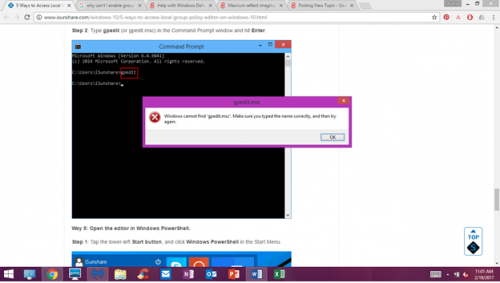 It is not the end of the world if I cannot run Windows Defender, but I am concerned that the Group Policy Editor seems to be effectively missing from my computer, if possible I would like to get it back and edit my group policies to be able to run both virus softwares.
I appreciate the help!
Thanks,
Chai