Why thank you skelly34.

That is a very nice compliment. I wouldn't call me smart, just educated. I am but one person that is associated with a whole group of security experts from around the world that has been keeping an eye out on this newer infection that is spreading in the wild and we are learning more each and everyday. We work as a team and report to the software developers who create the tools that we use so they keep their tools' databases up to date on the newest infections. I am sure that Microsoft and McAfee are not totally clueless. If I am not mistaken, their forum helpers are no different than I. Just people from around the world who wants to learn and help. They just may not have the resources readily available as I do.
I had mentioned that program that you could use to audit your system that will target what we call crapware/bloatware for uninstall. See below:
PC Decrapifier
is an application designed to remove unneeded programs from brand-new and used PCs. PC Decrapifier will scan your computer for common preinstalled programs and other products that are considered crapware/bloatware. You then have the ability to select the programs you wish to uninstall and with the click of a button automatically uninstall them.
You can get the download from
here
.
Tips, Information, and Optional Installation of Unchecky
Another program that I like to recommend is Unchecky. Especially if you download a lot of applications.
Watch what you open in your emails. If you get an email from an unknown source with any attached files, do not open it.
Install and keep only one anti-virus on your machine. Update it and scan your machine with it at least once a week.
Be careful of the websites you visit.
When installing new programs, don't be "click happy" and click through the screens. Many programs come with adware in them and are set to install them by default. Several programs require that you uncheck or select no to prevent the installation. Take your time and read each screen as you go.
Installation of Unchecky
This is a very good little program that will automatically uncheck any boxes during a software installation. This helps prevent the software from installing any malware that is by default checked while the program is being installed.
Click here to be taken to Unchecky.com
Click the very large Download button.
Click Save
Once downloaded, double click the program (Vista, Win 7, and 8, right click and Run as Administrator)
Once open, click the Install button.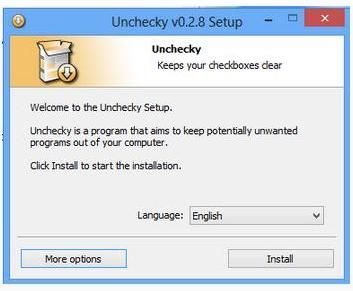 Then click
Finish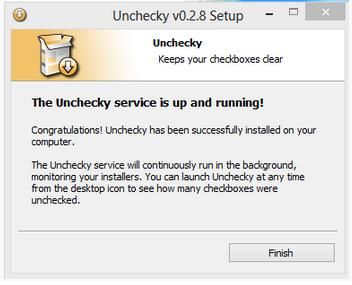 Unchecky is now installed and will help you keep unwanted check boxes unchecked.

To help protect yourself while on the web, I recommend you read
How did I get infected in the first place?
I also recommend reading
Miekiemoes Protection Tips
If you have any questions or concerns, please do not hesitate to ask.