I ran two(2) separate speedtest and someone is lying. (I'm leaning WAY over toward Spectrum. trust Ookla more) I've done this in the passed and found that Spectrum(formally BrightHouse) was "skimming my bandwidth. Now it's a much bigger difference. I read here someone said something about the cable company throttling my bandwidth. Could this be what's happening to me? I'm paying for 100, I expect at least 85 but what the test(Ookla) show is 31 Download. Sure could use some experienced insight on this. Those duck cluckers think because I'm  female and blonde I don't know Jack! Who's lying???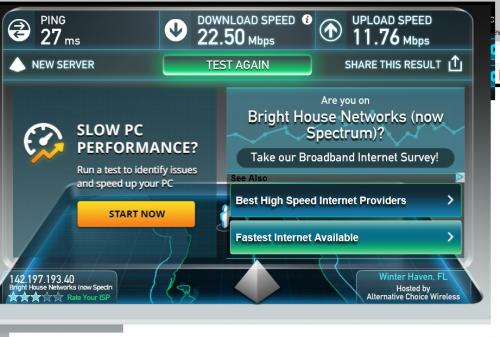 Thank You in advance
 Regards
Bigtrucks
Just did another from SpeedOf.Me and got this...(Now I'm confused)
Edited by bigtrucks, 27 April 2017 - 04:11 PM.