Here's my problem.
I purchased a new case (cooler master cosmos se) and a new motherboard (as rock b85 pro4 1150) for hosting my new CPU (intel 4790k). In my old case, I had a 1155 motherboard and I transferred my 32 gig Ram, my graphics card (nvidia 1070 gtx) and all my drives to the new case. I installed also a new psu (Corsair rmi 750i).
I connected the atx 24 pin cable and the atx 12v 8 pin cable, my ddr3 memory sticks, my 1070 gtx and the power switch from the case. Then I tested. The fans spooled up, I got system beeps. So far so good. Then I connected the other cables from the case (reset switch, pled, hdled and USB 3.0 connector cable.) Then I tested again and the differential on the fuse board in the house tripped.
After that, I stripped the motherboard down to the essentials again and tested again. Now, the CPU fan and PSU fan start, but stop after a few seconds. No more beeps from the system speaker. When I disconnect the smaller of the two parts of the atx cable and I power up the PSU, the two fans start and keep running.
I suppose the short circuiting did damage but would it be to the motherboard or to the CPU?
I tried everything the forum offers but nothing helps.
So, any advise would be very very welcome.
Jos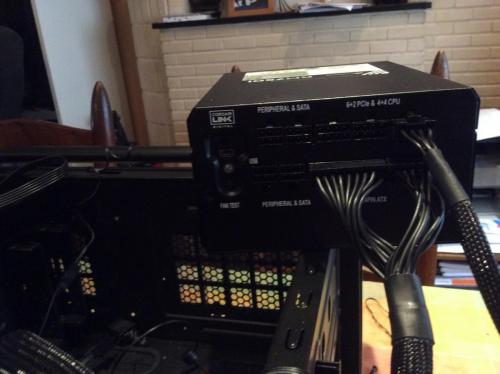 Edited by beep747, 10 July 2017 - 09:49 AM.