Sony Vaio Laptop Hard Drive
Started by
Channeal
,
Sep 22 2018 09:38 AM

Best Answer Channeal , 06 October 2018 - 12:28 PM
Hello Phill, Thanks for taking the time to study my Speccy report. The power settings have now been changed as suggested: - Power ProfileActive power scheme: BalancedHibernation... Go to the full post »
#31
Posted 19 December 2018 - 01:11 PM
No problem and thanks for the update Chris, fingers crossed that things pick up for you soon 

---
#32
Posted 02 November 2019 - 10:57 AM
Hello Phil,
Due to many problems in our lives, it has been an extremely long time since my last post....... during which my laptop has been lying unused and gathering dust!

Now at last today, I had a bit of quiet time to myself and decided to try and follow your instructions to perform a 'power cycle'. I have opened up the laptop, but do not know how to remove the CMOS battery and the RAM and (though I am embarrassed to admit it) am not even 100% sure whereabouts they are, so am attaching a picture of the interior to see if would be kind enough to give me some guidance.
I guess the CMOS battery must be the little thing at the top left of the screen, so can probably get that out somehow. The RAM is more difficult though. I know what the RAM in a desktop computer looks like, but this looks different. I guess it must be somewhere near the bottom of the picture, but have no idea exactly which it is, or how to remove it.
Thanks in advance for any help you can give me. I hope you and all your family are well, especially your grandson.
Chris.
---
#33
Posted 02 November 2019 - 12:59 PM
Hello Chris,
The RAM is easy enough as it can be seen in your picture, gently release the springs at each side of the RAM and then slide it out,  the CMOS battery is on the other side of the MB and needs the top of the case to come of to get at it/them, slightly different to the standard CR2032 type, see the attachment below and the video for how to get to the CMOS battery, the only video that I could find so forgive the jack replacement information. video - CMOS battery Crucial RAM upgrade video
---
#34
Posted 02 November 2019 - 01:48 PM
Thank you.
This is probably a really stupid question to you.....but of the two items/layers in the picture below, which is the RAM? And what is the other one? I want to make absolutely sure before I attempt to remove anything.
EDIT I suppose they could both be RAM. One of them says 'warrantty void if removed though. And they both look so different.....so I am completely confused!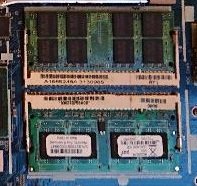 Edited by Channeal, 02 November 2019 - 02:07 PM.
---
#35
Posted 02 November 2019 - 02:17 PM
No worries always best to be sure 
Used your previous picture, see attachment, the two arrows show the spring loaded clips that hold the RAM in place, gently ease them sideways at the top so that the RAM will slide out.
---
#36
Posted 02 November 2019 - 02:52 PM
Hello again,
Okay, with your help, I removed the RAM okay. I had no idea that the CMOS battery was going to be so complicated to remove though. Not sure I am up to removing the keyboard etc. Will mull it over......  but am thinking that if I want to have a laptop again, it might be time to purchase a new one.

Thanks very much for your help anyway.
Chris
---
#37
Posted 02 November 2019 - 02:59 PM
Hi Chris,
What problems were you having with the Vaio the last time you tried to boot it up.
---
#38
Posted 02 November 2019 - 05:05 PM
Hello Phill,
I only know what I told you in message #20
The screen froze, so I couldn't move the mouse or anything. I had to turn it off by holding the power button for a few seconds. Then when I attempted to turn the laptop on again, the green power light came on and stayed on and the orange light (for hard drive activity) flashed on briefly. There was some noise to suggest that the machine was powering up. The screen however remained completely black without even a flicker.


I put the Puppy Linux CD in, but although it made the usual noises the screen did nothing.

 

EDIT on the 14th Nov (2018).

Since writing the above, I have realised that as well as the screen staying black from the start with no cursor, there is no response from the keyboard if I try pressing the Caps Lock or Num Lock keys. Not looking good, methinks! :( :( :(


I have not even tried to turn on the laptop since then. I should - I know - have tried today before taking the back off, but unfortunately I didn't.
It is an old laptop and I got a couple more years out of it by upgrading to Windows 10 in 2016, so that was good. a shame it didn't last a bit longer, but I guess that's computers for you!
I guess I will have to put it all  back tomorrow and have one further try to start it........
Chris.
Edited by Channeal, 02 November 2019 - 05:06 PM.
---
#39
Posted 03 November 2019 - 05:01 AM
Hello Chris,
Apologies, I did not realise that the notebook had not been powered up since we were last looking at this.
We will have to wait and see what transpires once you reassemble the notebook and attempt to boot up.
---
#40
Posted 04 November 2019 - 07:26 AM
Hello Phill,
No problem. I don't expect you get many people who do not even try to turn their laptop on for almost a year!

I turned it on today..... and got absolutely nothing. The green power light illuminates when connected to the electic socket and when I insert the battery the orange light comes on to indicate that it is charging up. When I press the power button on the computer, the yellow hard drive activity light illuminates briefly, then goes out. The screen remains black. There are no beeps or anything. Nothing at all. I suspect that something very drastic has gone wrong.
Thanks for your help.
Chris

---
#41
Posted 06 November 2019 - 12:02 PM
Hello Chris,
Did the notebook normally give out a single beep once it had booted up.
Do you have an external screen that you could connect the notebook up to.
---
#42
Posted 09 November 2019 - 04:30 AM
Hello Phill,
 

Did the notebook normally give out a single beep once it had booted up.
I have been scratching my head over this. I am not 100% sure...... but I don't think it used to give out a beep.
 

Do you have an external screen that you could connect the notebook up to.
Sorry no, don't have one.
Thanks for your help.
Chris.
---
#43
Posted 10 November 2019 - 05:50 AM
Hello Chris,
Pretty much at a dead end then I`m afraid as we have no way of knowing if the screen or an associated component are either bad or not properly connected, the motherboard to screen video cable for example.
Can`t be expected to remember about the single beep btw.
NB: Took a look at the earlier attachment regarding the RAM, can`t be 100% certain I`m afraid but there is what looks like a BIOS speaker in the pic which has been outlined.
---
#44
Posted 10 November 2019 - 10:52 AM
Hello Phill,
Pretty much as I thought really.

Can you just confirm one thing for me, please? Am I correct in thinking that the fact that no light comes on when I press 'caps lock' mean that it is unlikely to be only the screen that has gone wrong?
With regard to the BIOS speaker you mentioned..... I had to look this up to find out what you meant, but have now sussed the fact that this is what would create the beeps you were talking about. The problem is,  I have had a look at so many pictures of the interiors of different Sony Vaio laptops and they all seem completely different, so maybe what one model has, another wouldn't.
In your opinion, bearing in mind the age of the laptop would it be worth taking it in to a shop to look at? (Not that I know any reliable computer repair shops). I am wondering whether or not to try this, or to just ditch it and buy a replacement.
If I did decide to ditch it, I might possibly consider opening it up again first and maybe having an attempt at removing the keyboard etc as I guess there would be absolutely nothing at all to lose by doing it then. I had kinda lost my confidence at trying anything new computer-related due to my life being too full of other problems now, but this has begun to reawaken my interest just a tiny bit.

Thanks,
Chris.
---
#45
Posted 10 November 2019 - 02:15 PM
Hello Chris,
Possibly but the LED or the keyboard itself may not be working, have you tried pressing the numbers lock key as like the caps lock that should also light up.
I would not pay to have the notebook checked in a tech store as labour and the cost of any new part/s would rule it out as being a viable financial option, a more up to date refurbished notebook would most likely cost around the same price.
The only two things that I would do are try connecting a USB type keyboard to the notebook and see if you are able to have someone hook the notebook to their external screen.
NB: Do you not still have the Dell desktop and its corresponding screen, it would help if you could borrow the screen for five minutes or so while you connected the notebook up to the screen.
---
---
Similar Topics
0 user(s) are reading this topic
0 members, 0 guests, 0 anonymous users
As Featured On: