#76
Posted 23 December 2019 - 05:51 PM
Sure.  No problems.  Wish you a Merry Christmas and a Healthy, Happy New Year.

---
#77
Posted 23 December 2019 - 10:35 PM
I'm back. Patient is feeling much better.  It's usually just one awful morning and a lot of sleeping and the next day you are weak but able to eat and drink and walk around without falling over.
You might see some improvement if you can change the power plan from Balanced to High Performance.  It looks like the option is still there in Win 10.  Control Panel, Power Options.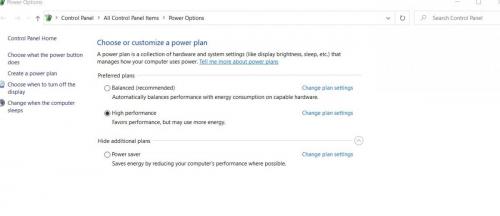 Also if you go into the BIOS (CMOS) setup some intel systems have eco, power savings, quiet running or similar named options which when turned on (usually by default) will slow things down.
I'm not sure there is much else we can do to speed up your PC without adding RAM.  Next time you see your computer guy talk to him about increasing the RAM to at least 8GB.  Speccy said you had a spare slot so you could just get another 4GB stick and plug it in.  PC3-12800 DDR3 
Don't know what stuff costs where you are but Amazon has the exact same RAM  for $16
https://www.amazon.c...B/dp/B00YHF569E
Usually all you need is a small Phillips screwdriver.  There's a small cover on the back and once you remove it the RAM is right there.  Pretty simple so you could do it yourself.
---
#78
Posted 23 December 2019 - 11:12 PM
---
---
Similar Topics
Also tagged with one or more of these keywords: Slow Startup, Slow Shut down, Hangs
Security

→

Virus, Spyware, Malware Removal

→


Started by JimBow ,

03 May 2020

Avast

,

Lockup

,

slow startup

and 1 more...

Hot

71 replies
12,194 views

Security

→

Virus, Spyware, Malware Removal

→


Started by BudMiser74 ,

03 Jan 2018

Slow Startup

,

Slow Pc



Operating Systems

→

Windows Vista and Windows 7

→


Started by Cocaine ,

03 Sep 2017

bsod

,

hangs

,

overheating

,

slow

and 3 more...

Operating Systems

→

Windows Vista and Windows 7

→


Started by dusty_archivist ,

08 Sep 2014

slow startup

,

Windows 7

and 1 more...

Security

→

Virus, Spyware, Malware Removal

→


Started by joy2mac ,

22 Apr 2014

windows 7

,

slow startup

and 4 more...

Hot

30 replies
10,422 views
0 user(s) are reading this topic
0 members, 0 guests, 0 anonymous users
As Featured On: