I had no issues while playing dota2 in Windows in the same PC.

Dota2 starts up fine and everything in the Menu section works fine. However the following problems occur :
If I open any other application while dota2 is running (like firefox browser or discord), the entire pc freezes forcing me to do a force shutdown. When I had Windows, both discord and dota2 would work fine together.
The game freezes in the loading/versus screen and to others who have already connected and started playing, I appear as disconnected. This again forces me to do a force shutdown and rejoin the game (which then works but still causes occasional fps drops at random times)
Unable to watch live games due to slow load and high fps drops (9-15 fps)
I have attached the basic system specs.
Please let me know if I need to provide any additional information, also I hope this is the right forum to post this issue as  I was confused whether this would go here or in the gaming section.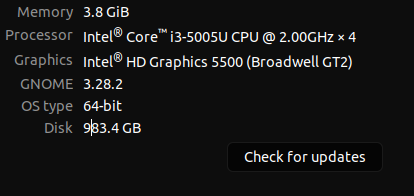 Edited by VinodAntony10, 23 April 2020 - 08:55 PM.