Computer suddenly grew sluggish a few weeks ago and needs examined
Started by
Warship
,
Oct 13 2021 07:51 PM
#16
Posted Today, 11:24 AM
I'm trying to do the task scheduler instructions next.
Edited by Warship, Today, 11:36 AM.

---
#17
Posted Today, 12:01 PM
---
#18
Posted Today, 12:11 PM
---
#19
Posted 10 minutes ago
How long did you let Latency Monitor run?  The processes screenshot looks really ugly but if it ran for a long time that might be OK.
Can you do it again for just 20 seconds?
This is what a really good hard drive (Western Digital Black) looks in HD Tune: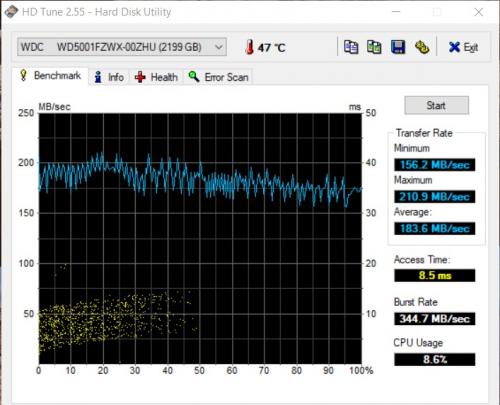 so you may need a new drive in the near future.
Right click on the clock and select Task Manager
(More Details)
Select Performance
Open Resource Monitor
Disk
Make it full screen
Look in the top pane and find the process with the highest Total (B/Sec)
and check the box in front of the process.
Wait 1 minute and then
Take a screenshot and post it.
---
---
Similar Topics
1 user(s) are reading this topic
1 members, 0 guests, 0 anonymous users
As Featured On: