Stats for June 2005: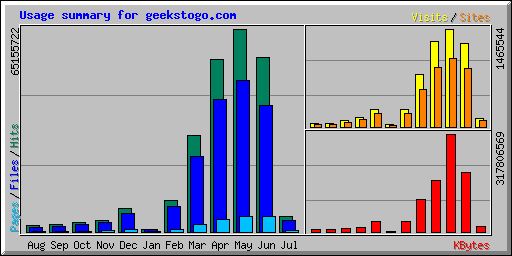 Traffic slipped some in June, and continues to decline some in July. While it's disappointing after many months of continuous growth, it also means we are better able to help a higher percentage of visitors to the site. We were growing a rate too fast to sustain or support. The number of new posts and replies has remained constant, or grown slightly. So it seems fewer visitors are getting more replies -- we're better able to respond to new posts, and the wait times are going down.

However, it's not acceptable to keep losing visitors to the site. The decline started when we moved to the new servers in the new data center. The servers are working great, so I think the data center may be responsible. Just to be sure I've reversed any changes made to the site, and will monitor the rest of this week. I'm guessing we'll be moving again.

My theory is that we're being penalized for guilt by association. When we looked for somewhere new to host the site, I was impressed by the reputation and ability of our current network operation center's ability to prevent and mitigate distributed denial of service attacks (DDoS), and we're paying quite a premium for it. However, I think many sites that may be at high risk of DDoS are sites of ill repute (adult, IRC, online marketers).
I know Google looks at the IP block of a site, and penalizes results if it doesn't like other sites in the same range. This is the best explanation I can come up with.
Stay tuned.