Hello everyone,
Firstly, would like to apologize if this is not in the right section of the forum. As the title states, I am not sure of my computers problem.
I am new to the site. Why? Because my new computer is crashing. I have had the computer a week and would like some techincal advice. I am pretty good with computers but no training or anything. I had a buddy who I work with at a computer store help me build my PC. Here are my specs:
Asus A8N-SLI Deluxe
Athlon 64 3700+ (San Diego Core)
Corsair TwinX XMS 1 GB PC3200 Dual-Channel DDR Kit (2 x 512 MB)
Western Digital Raptor 74.8GB 10,000 RPM Serial ATA
HP LightScribe DVD±RW/CD±RW Dual-Layer Burner
3½" Floppy/7-In-1 Card Reader
BFG 6800 Ultra OC SLI PCIe 256MB
Enermax EG701AX-VE 600W
Thermaltake Tsunami VA3000BWA Case
I think that about covers it. Anyways, before I was having some issues with the system. Some symptoms where the mouse would freeze. The cursor would lock up completely. I knew the computer wasn't froze as I could still navigate Windows with the keyboard. Also, the computer would crash fairly often, mostly during games. I would get BSOD and I think I received about 3.
My buddy, who had overclocked my RAM and CPU in the BIOS
(A topic which is over my head)
figured they were failing. So everything was returned to Manual settings.
Now just this evening I was playing a game, America's Army. I received what is called a Critical Error. This is common in AA and the game itself crashes and you just simply load the game back up and continue playing. Immidiately after this Critical Error, I got another BSOD which I thought I had fixed. I have attached images of the Blue Screen and the errors I have received. I did have the old pictures of the BSOD but deleted them today thinking my problems were fixed.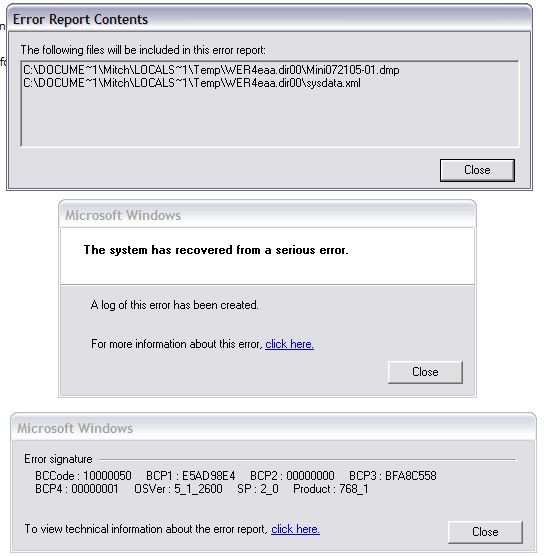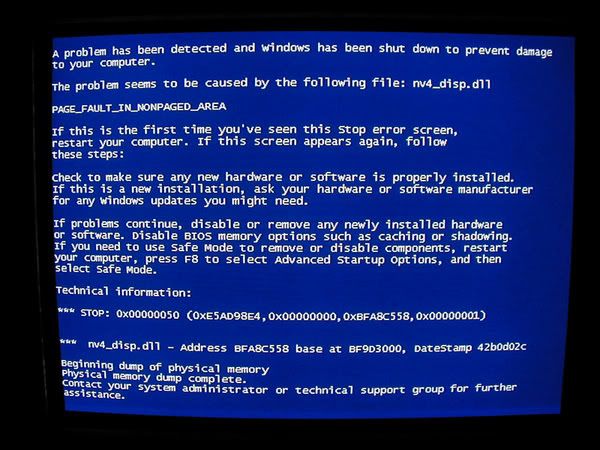 Hope you can help me out.

Many thanks in advance!
Mitch