November marked 18 months of existence for Geeks to Go. We continue to experience steady, and phenomenal growth! Unique visits are expanding by about 50% per month.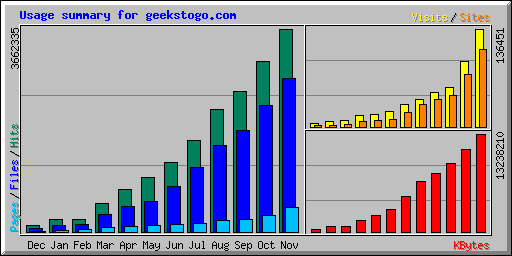 106,945 unique visitors - 366,421 pages viewed - 13 GB data transferred - 13.6 million hits
Google seems to like us. Their Googlebot visited this site over 62,000 times, and consumed 535 MB of bandwidth.
A little history. While this isn't our first thread, it's the first long one, and the first one that I remember:
http://www.geekstogo...howtopic=29&hl=
We're very fortunate to have a terrific volunteer staff, and many more that are currently learning. I'm confident we'll continue to grow, and be able to service that growth with the timely, friendly help our members have come to know.