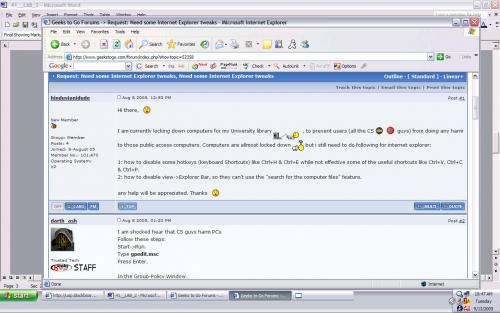 Hi,
I have a rather strange popup problem on my laptop. Every so often (randomly between every 10 - 60 mins or so) I get a blank popup on my taskbar, as if a new window is opening, but no window appears, and it always disappears in under a second. I've managed to get my mouse over it, but no description appears before it's gone again.
I'm not sure if perhaps it
is
just a popup that is getting killed by a popup blocker, and I'm just seeing a ghost image of it, or if maybe I have an infection.
I managed to capture a screenshot of it a few minutes ago, which should help you to see what I'm trying to describe. Again, it's the blank window in the taskbar @ the bottom.
I've run AdAware SE and scanned w/ both Norton and the online Symantec AV software and found nothing. The system process list doesn't appear to have anything abnormal in it, and my computer isn't slowed from this. Also, Zone Alarm hasn't made any notifications of its activity.
Btw I have Windows XP w/ SP2 and all updates.
I hope that I've adequately described this problem, and would greatly appeciate any help.
Thanks,
Steve
Edited by pyro_nemesis, 13 September 2005 - 12:00 PM.