Hello,
I'm having a problem with XP reporting apparently conflicting information about disk capacity.
I have a 60GB hard drive on my laptop, with XP installed on single partition, and about 25GB of free space. My problems began when I attempted to install Ubuntu Linux on the same drive; using the partition utility included with the install program, I created a 10GB partition for Linux (leaving XP on the remaining 47GB or so partition). The installer froze when it was about 50% finished; when I rebooted, I received a "no operating system found" message. Yikes! Fortunately, after rerunning the partition utility on the install disk, I was able to recombine the two partitions, reforming the ~57GB single partition. I was then able to restart XP, which loaded with no problems. The system appeared to be in its original state.
I noticed, however, that XP no longer reported the disk size to be around 60GB under the disk properties; instead, it reports 46.5 GB. Baffled, I invoked the XP Disk Management utilty, then ran CHKDSK, and finally installed Partition Magic, but I can't make sense of the results.
The tools appear to be reporting 57GB for the partition, while others show 46GB. The difference appears to be rougly equal to the 10GB I set aside for the Linux partition, so I'm assuming that the failed install attempt is the source of my problem. For the record, I have a ~500MB swap file, 5% maximum space allotted to the Recycle Bin (Norton recycle bin manager is *not* installed), and a virtual CD drive managed by Alcohol 120%.
Here's some of the info I've gathered. XP's Disk Management reports a 46.6 GB partition on a 56GB disk.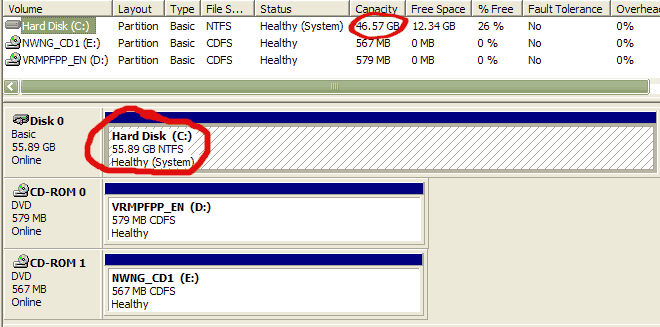 Partition Magic shows a 57GB partition, but says there is 35GB used and 12.6GB unused. Something isn't adding up...

Partition Magic's Partition Properties dialog clearly shows a 47GB partition. I haven't yet bothered to look up how the sector math works out.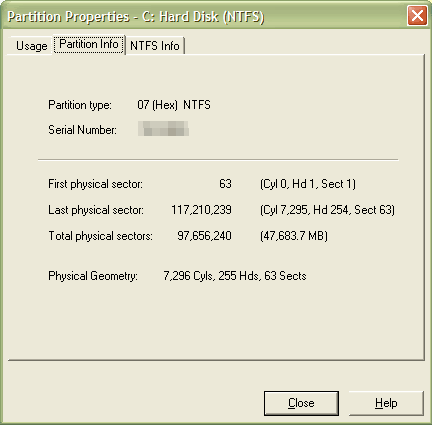 I seem to be getting inconsistent information like this everywhere. Is there any way to get to the bottom of this? Is there a chance for a fix, or did I screw it up with my failed Linux install? Or is the system okay, and I'm simply not understanding the mechanics of it?
I appreciate any suggestions, questions, or advice that you can offer. Thanks!
Edited by NexusPerplexus, 23 February 2006 - 03:32 AM.