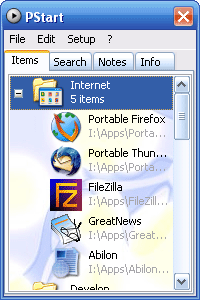 Since I am a great user of my USB drive and a huge lover of portable applications that I carry around I have been looking for some launchers that I can add to my USB drive so that I can boot my portable applications more easily. And since it took me quite a while before I found the right launcher I thought I would write up a review for all you portable geeks out there that are looking for a portable launcher. My favorite is PStart, and that is what I will be writing about.
I will be judging PStart on a few factors which I deem very important for a launcher for all my portable apps. A few of those are an easy to understand User Interface, Simplicity (Who would want a launcher that is more complicated than looking up the app on your USB drive?) and most importantly (in my opinion) Customization.
A quick quote from the PStart Website;
PStart is a simple tray tool to start user defined applications. Designed to run portable applications (like portable Firefox & Thunderbird), you can start anything runnable from USB key devices or removable disks.