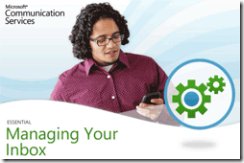 1) They asked. Microsoft Communication Services is cloud hosted Exchange and Sharepoint + Outlook 2010. Rackspace waived the $12.50/month fee on their plan for 1-year, in exchange for our feedback. I'll also share my experiences here, and in future posts. $150 in free services didn't motivate the change. I was curious, and excited to explore an alternative to Google Apps. A 14-day free trial is available to everyone.
2) Gmail performance issues. Randomly, inexplicably, without warning, and without explanation Gmail gets slow. Not usually a big deal for personal email, but a productivity killer, or even loss of business for some. For a company that prides itself on speed, Gmail suffers. Some people are even begging to pay for better performance.
Google, please set a price — any price — that you determine is necessary to keep anyone's account running smoothly at all times. I'll gladly pay it. I don't care if it's $100 a year or $1,000 a year. It would be worth it.
What if you're unlucky enough to have your emails accidentally deleted (and later restored)? When's the last time you backed up your Gmail account?