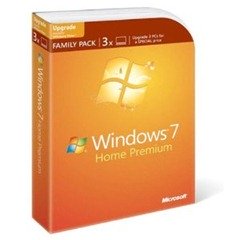 What is a Windows 7 Family Pack? It's a discounted 3-user pack of Windows 7 Home Premium (upgrade versions). Available for $150 from Microsoft (or $140 from Amazon), you'll save $200+ if you're upgrading 3 PCs!
Already running Windows XP or Vista? Then you're eligible for this upgrade offer (Vista can be upgraded using Windows 7, but XP will require a clean install).
Is Home Premium the right version for you? Unless you need to join a domain (mostly corporate networks), or require XP mode, then yes it probably is. Do you need 32-bit or 64-bit? Don't worry, they are both included.
Why upgrade to Windows 7? Through the Microsoft MVP Program, I had the opportunity to support a Windows 7 booth at the Inc. 500 Conference last week, and answered that question many times. Attendees were most excited about desktop search, and the new Aero interface / taskbar. HomeGroup was also welcomed as sharing printers and files between home PCs has never been easier. Windows snap and shake solicited a number of, "wow" exclamations. From my own experience, Windows 7 is fast and stable.
In conjunction with Windows 7's one-year anniversary, The Windows 7 Home Premium Upgrade Family Pack will only be available for a limited time. It sold out quickly when it was offered last holiday season. Don't delay.