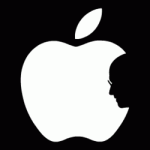 The passing of Steve Jobs means there will be, or already is, a proliferation of blogs, essays, and articles remembering a man who helped revolutionize how we use computers, how we listen to music, and how we use our phones.  A fitting finale would have been the announcement of the iPhone 5 the day prior to his passing, but it wasn't to be.  I could write the typical article lauding his accomplishments and mourning his death at much too young an age (being just 5 years younger, I wholeheartedly feel he died much too young).  I don't feel, however, that I could do justice to his life and accomplishments, and much has been written already. Instead, I've decided to give thanks for his creative genius, for that, coupled with the equally creative genius of that other computer company (no, not Dell; Microsoft) has made sites such as Geeks to Go a haven for those desperately seeking help for these sometimes confusing and uncooperative pieces of technology upon which we so desperately rely.
Admittedly, if you look at our forums, we are heavily Microsoft-based. Apple fans will point to that as a sign that the computers are a stable, virus-resistant breed that are vastly superior to anything else out there.  Maybe they're right and the rest of us just haven't gotten the message. Regardless, there are still quirks, questions, and queries about various Apple products, such as the baffling and often unresolved error "iTunes cannot connect to the iTunes store".  The products aren't perfect, and users turn to the Internet for answers.  Sites such as ours have sprung up across the web, populated by eager geeks who wish to share their knowledge – or sometimes lack thereof – with befuddled users.  As much as I want to thank Steve for his many contributions to technology, I also want to thank him for not being perfect.  Why? Because for many of us, these forums aren't just a place to receive free help, they're a community.  Many of us are drawn here by a combination of a love of technology and a commitment to helping others.  We share our knowledge with one another, and often we share parts of our lives as well. We're probably all a little crazy; we volunteer large chunks of our time to do this, with no regard to monetary gain.  Maybe, however, we all have a little Steve Jobs in us, that curiosity to figure something out, the drive to make someone's life better with technology.  I know that many of our tech staff here have a passion for what they do, as evidenced by the time they spend helping total strangers, and by the way they often work behind the scenes to help one another solve a problem.  This isn't unique to us; I have been involved with other sites, and I have seen enough of other forums to know that this is a quality that is shared by many. Passion is probably a fitting term for what drove Jobs; a passion for inventing, for astounding people, for changing our lives.
Steve Jobs' legacy will be with us for a long time, and few of us are lucky enough to touch the lives of so many others the way he and his products did. You may not use a Mac or own an iPhone or iPad, but how many of you own an iPod? The last 10 years have been a magical ride for Apple. Who knows what the next 10 would have looked like under Steve's direction? As someone who loves technology, I can't help but feel cheated.
image credit: Jonathan Mak