Officially, Microsoft Security Essentials "is not compatible with Windows 8". Unofficially, it's been renamed Windows Defender. If you've used Microsoft Security Essentials, the new Windows Defender bundled with Windows 8 will have a very familiar look and feel.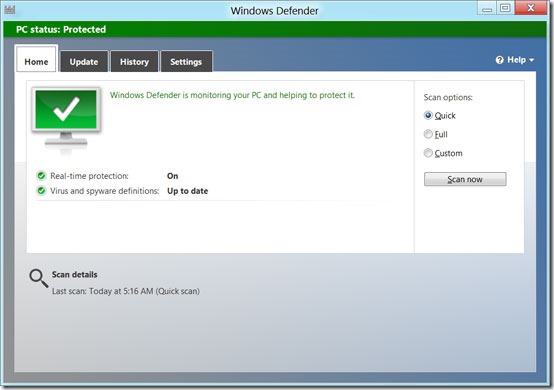 Microsoft Security Essentials has gained a lot of momentum in recent years as a terrific, and free antivirus solution. Some would argue one of the best antivirus solutions at any price. It's reputation is deserved. It is light on system resources, runs silent, and has good detection and removal. Windows Defender on the other hand was primarily an antispyware application. A remnant of the pop-up ad era, and what remained of the Giant antispyware acquisition. Installing Microsoft Security Essentials (MSE) even disables Windows Defender.
So why would Microsoft chose to confuse customers by dropping the Microsoft Security Essentials name in Windows 8? It's a business decision. Bundling full antivirus protection with Windows 8 is a bold move on Microsoft's part. One that obviously caught the eye of in-house legal hawks, and angered the antivirus industry. Microsoft recently ended its anti-trust oversight, and while it may be bolder, it's not stupid. Windows Defender has been bundled since Windows Vista. While Microsoft Security Essentials would technically be a new bundled application, Microsoft can claim Windows Defender has been bundled for years. Windows Defender may not have the reputation of MSE, but that will be changing.
If you've grown accustomed to Microsoft Security Essentials, Windows Defender will be immediately familiar. However, Microsoft has taken efforts to improve it, and make it even more silent. There is no icon in the system tray (notification area by the clock). If you install a third-party antivirus, Windows Defender will detect it has installed via the Security section of the Alert Center and quietly disable itself. Should you uninstall the 3rd party protection Windows Defender will quietly re-enable itself. Even the Windows Genuine Advantage requirement has been dropped. The goal is clearly 100% malware protection for all Windows 8 systems.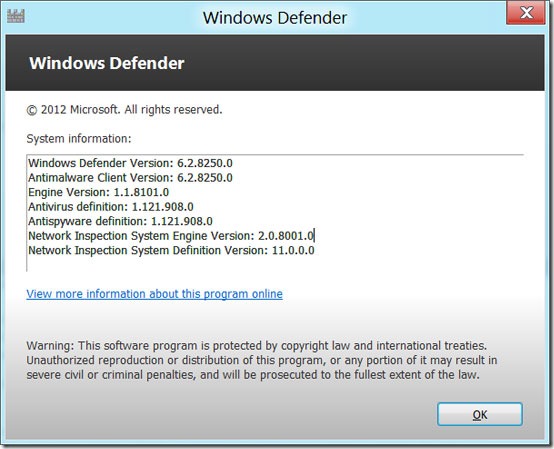 Signature detection in Microsoft Security Essentials and Windows Defender can also trigger a new Windows Defender Offline (beta) mode. Although only the Alureon (or TDL4) rootkit currently trigger notification to download and run the offline product, other definitions are sure to be added.
Windows Defender Offline has a similar look and feel to Windows Defender and MSE. However, it's based on Windows PE and boots to an offline environment where neither Windows, or the rootkit is active. It can be burned to a CD/DVD or installed to a USB drive. It's recommended you download Windows Defender on a PC that isn't infected. 32-bit and 64-bit versions are available here.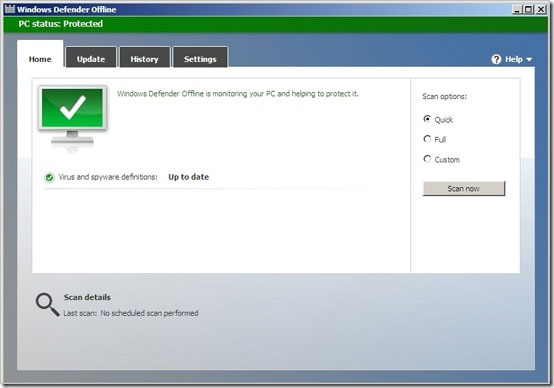 Finally, Microsoft has taken the Smart Screen technology from Internet Explorer, and baked it into Windows 8 as Windows Smart Screen Application reputation. Applications downloaded from any browser (not just IE) will have its reputation checked before running it.
The Microsoft Security Essentials you've come to know and love may be missing in Windows 8, but it's been replaced by an even better, and more capable Windows Defender.