Is Windows 8 Release Preview compatible with Microsoft Security Essentials?
No. As we've written previously, there will be no Microsoft Security Essentials available for Windows 8 Release Preview, or the Release to Manufacturing (RTM) final version. However, Windows Defender has been expanded to include real-time malware detection and removal. If you've used MSE before, Windows Defender in Windows 8 will have a very similar look and feel. It also shares the same signature detection as MSE and Forefront.
Confused? Technically speaking, Microsoft Security Essentials has not been renamed Windows Defender, or combined with it, but it sure feels and looks that way. Blame the antitrust lawyers.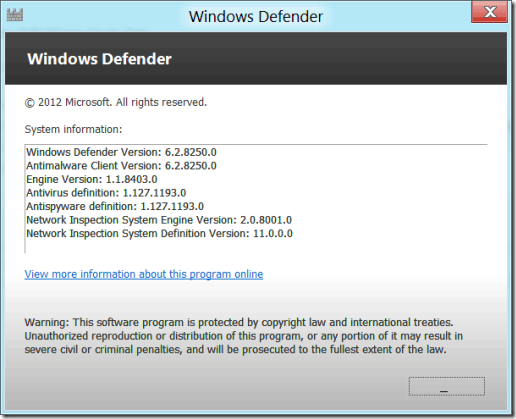 Do I need to install Windows Defender?
No. As with earlier versions, Windows Defender is a built-in feature of Windows. You don't need to install or enable it. It's always protecting your system, installed and running by default.
Defender runs very silent. There's no icon is the system tray, and file context menu, "Scan with Microsoft Security Essentials" when right clicking a file is gone. Definition updates are through Windows Update. You can open Windows Defender or run a scan by typing WIndows Defender on the Start screen, and then clicking the Settings filter.
Can I uninstall Windows Defender, or use a third-party antivirus?
No. You can not uninstall Windows Defender. However, it will automatically disable itself when another antivirus is installed. If the third-party antivirus is removed, or definition subscriptions expire, Windows Defender will re-enable itself. The goal is to always ensure active, real-time malware protection. As always, never install more than one active real-time anti-virus program. Unlike Windows Defender, they won't disable themselves. offering less protection and decreased system performance.
Not all anti-malware products will be compatible with Windows 8 Release Preview. You can find the current offering here: http://windows.microsoft.com/en-US/windows/downloads/antivirus-partners
Can I use the free or paid version of Malwarebytes Anti-malware with Windows Defender?
Yes, anti-malware products that previously ran along side Microsoft Security Essentials, will still be  compatible with Windows Defender. This includes MBAM, SUPERAntiSpyware, Emisoft Anti-Malware, Spybot S&D, Ad-Aware and others.
Need additional help with Windows 8, or malware removal?
Visit our Windows 8, or malware removal forums where you've always find friendly advice from experts.