Much has been written about the lack of a Start button in Windows 8, but if you're a power user you may find the lack of start menu items like My Computer and Control Panel just as troubling.
Type Windows key
+ X (or mouse to lower left hot corner and right click) for the following menu: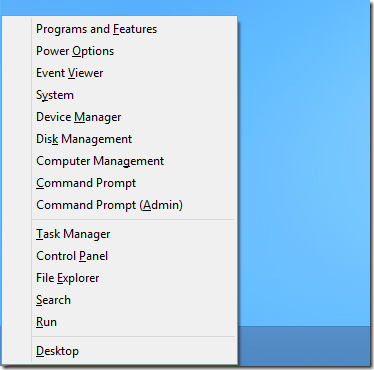 Here is the list of options:
Programs and Features
Power Options
Event Viewer
System
Device Manager
Disk Management
Computer Management
Command Prompt
Command Prompt (Admin)
Task Manager
Control Panel
File Explorer
Search
Run
Desktop
Note the underlined letters in the menu. These can be used to navigate directly to each option using only the keyboard. For example to access the Control Panel, Press Windows key
+ X and then the letter P. To access the File Explorer, Windows key
+ X + X.
Like Windows key short cuts? Here's a list of new or useful ones available in Windows 8:
Windows key
+ W : Search Control Panel and Settings stuff
Windows key
+ F : Search Files
Windows key
+ C : Charms
Windows key
+ K : Devices
Windows key
+ I : Metro Settings Charm
Windows key
+ Arrows : Snap desktop apps to the sides
Windows key
+  (period) : Alternate sides to "snap" Metro Apps.
Windows key
+ X : Administrative Tools
Windows key
+ PageUp/Dn : Move full screen apps to other monitors