Windows XP End of Support is on April 8th, 2014. Click Here to learn more.

Don't show this message again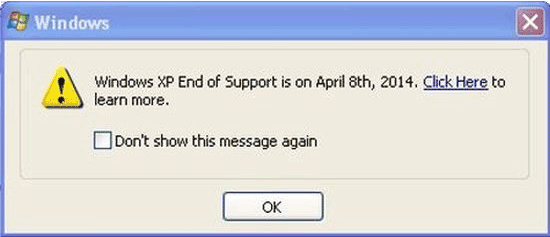 Microsoft is ending support for Windows XP, and it's about to let every XP user know. On Saturday March 8th, and then the 8th of every month after, XP users will see the popup window shown above (unless they tick don't show again). Many users may mistake this warning for a fake security alert, often used to trick people into installing malware. But this one is legitimate. Any computer connecting to Windows Update will display it. Most enterprise computers won't, as they don't get updates directly from Windows Update.
There are two more patch Tuesday's left for XP, and then Windows Update will no longer offer updates for what may be the most successful operating system of all time. Many experts are predicting a spike in XP related malware as vulnerabilities go unpatched. Amazingly, XP still has a 29% market share. Not sure if you have XP? There's a website for that: http://amirunningxp.com/
There is no direct upgrade from XP to Windows 7 or 8. However, Laplink has a free migration tool called PCmover Express that will help transfer files, settings, and profiles. If you want to also transfer programs, there's a special offer on the professional version ($23.95).
Are you still running Windows XP? Will you be upgrading? What are you going to upgrade to?