Sugarsync (www.sugarsync.com) is one of the online storage system offerings that are out there, and I recently had the opportunity to test the service out. This feature-rich product is more than just an offsite storage system; Sugarsync not only allows you to sync your computer with the online backups, but allows you to sync files across multiple computers, access your data from anywhere, including your mobile phone, and provides both dynamic and static storage spaces.
Everyone knows the importance of keeping good backups of your computer data, especially anyone who's ever lost data due to a hard drive crash, natural catastrophe, or any other reason. Many people, however, don't back their data up regularly; it can be a time-consuming process that's not always easily automated. This is one of a series of articles we're doing on ways to backup your data. Read our previous article for an overview of different backup strategies available.
As mentioned in the referenced article, an online storage site (OSS) is one option for performing backups. I like the idea for several reasons. First, you have access to your data no matter where you are, as long as you have access to a computer. Secondly, while using a home server or external hard drive will give you the ability to recreate your data if your PC should crash, what if a natural disaster, for example, prevented you from accessing your backups? Floods, earthquakes, or tornadoes could hinder you from reaching your backups, even if only temporarily. With an OSS, your data will be safe and accessible, as long as you have access to the Internet. Even in the event that the OSS is hit by a catastrophe, any good OSS will have redundant sites, with multiple copies of your data at each site. An OSS is a viable solution only if you have fast internet access, though; dial-up or slower speed access would render this type of backup unusable.
How it Works: Once you've signed up for the service, you're provided with your own website address, i.e., username.sugarsync.com, which is what you'll use to gain access to all your files. To begin the process, you download the Sugarsync Manager, which is a small program that is used to access and manage the data. This is downloaded onto each PC you wish to sync, which I'll expand on later.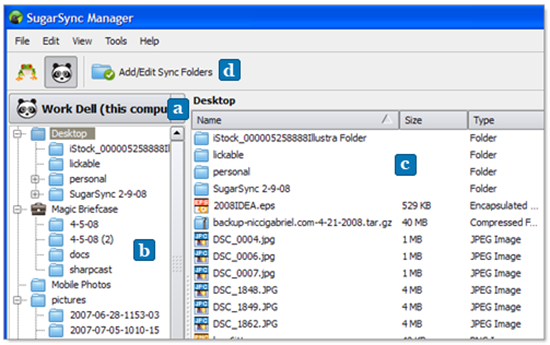 When you first install Sugarsync on a PC, you configure options for it. These include picking an icon and setting up which folders you want to sync. In the above screen, you'll see the Work Dell PC, with a panda icon, and a list of all the folders to be synced.  Once you've configured these options, Sugarsync will automatically copy all the files from your PC to your webspace. This is actually a very dynamic process – I used an external hard drive to copy a number of files to my new Vista PC, and they synced to Sugarsync simultaneously. This is one of the very neat features of this program – the backup process is automated.
You can add and edit your sync folders at any time through this interface. Once you've added a folder for syncing, the process takes place automatically. You can choose to sync an entire folder and its subfolders, or only choose certain subfolders. Within Pictures, for example, I've chosen not to sync the Microsoft Clip Organizer, as it's not something that I typically change or care about backing up.
This basic syncing service by itself is a great feature.  Backup solutions typically require some sort of manual effort (such as CDs and external hard drives), or at least a schedule for the backups; Sugarsync's ability to keep files in sync as the changes are make this an enticing product for any situation in which multiple files change throughout the day.  This just the tip of the iceberg when it comes to the features Sugarsync offers, however.
The Magic Briefcase is another unique feature of Sugarsync. This is a neat little way to keep documents organized and synced between multiple PCs. For example, say you're in the middle of preparing a presentation for work. You need to work on it that evening from home, but you don't have a laptop. There's no need to copy it to a USB drive or email it to yourself, because you have SugarSync installed. Simply put it in the Magic Briefcase. When you get home, you can retrieve it and continue working on it. SugarSync will keep it updated, and when you return to the office the next day, you'll have the most up-to-date version.
Sugarsync Manager is also used to restore data in the event of any catastrophe.  By installing it on a new PC or harddrive, you can then use the sync feature to restore all the data.  Because it's done automatically, there's no need for tedious copying of files from one location to another.  While I fortunately did not need to restore due to any emergency, I did use this feature to get my data from an old PC to a new one, and found it much less time-consuming.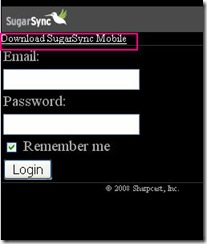 SugarSync also provides access from your mobile phone to its mobile website, which is m.sugarsync.com.  They have a mobile version of Sugarsync manager. Once you log in, you can see your files and photos online, and you can also choose to import the photos on your phone. If you have a document viewer application, this is yet another way to easily access your files.  The mobile photo management is an area that needs work still. I had two issues with this feature.
Part of the problem is the basic interface; pictures are large, phone upload speeds are not that fast. Therefore, it takes a while; this is not the fault of Sugarsync.  The issue is that there is no message or indication on your phone that this process is taking place.  If you attempt to close Sugarsync, you will get an error message that the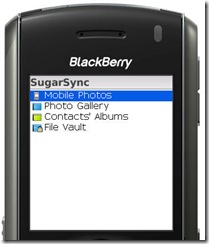 process will be canceled. but that's the extent of the notification.  The first time I tried, I had 4 of 11 pictures transfer.  The second time, they all transferred, but it was at least 20 minutes, if not longer, before it completed. If you need to get pictures from your phone, you'd be better off using your USB connection and whatever your phone-PC management interface is, and then letting your photos sync to Sugarsync that way.
The other issue I had was that it removed the pictures from the phone. I was using one as my background, and I ended up having to download it from Sugarsync to my PC, then use the Blackberry Desktop Manager to put it back on my phone.   They do exist in a cache directory, but that's a link to the Sugarsync site.  I expected the photos to actually sync, not be deleted.
To Sugarsync's credit, they were responsive to my questions regarding these issues, and did acknowledge the problems.  According to the engineer with whom I corresponded, a future release will not delete the pictures, and they're working to improve the interface so as to provide more information during the photo transfer process.
Web Archives is a static storage place. This is for files that you don't want to sync. I'm currently using this area to store some older files that don't need synchronization, but that I want to keep.  This lets me free up that space on my hard drive, but I still have access to the files.
So, now that you have your computers synced, what if you're not home and you need to access your data?  Simply log in to your personal Sugarsync website, and you have access to all of the PCs you've synced.
If I click on the Documents folder, I'll get the file management view, which looks like this: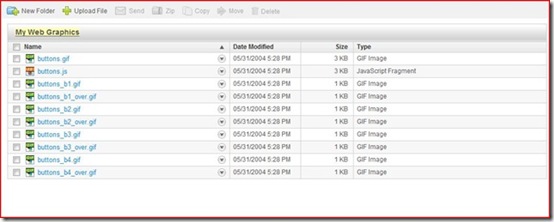 I can select any or all of the files and choose to zip them, send them, or perform any other actions shown in the menu above. I could create or import an address book to simplify the act of sending files to others.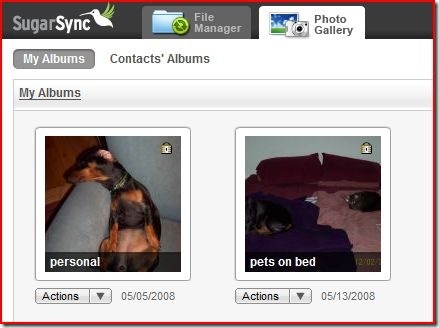 What I really liked about the online site is the Photo Gallery, which is all the pictures you've synced. If, like me, you have your photos in folders for different events, such as your vacation to the Bahamas, then that is now an album. You can share the albums with anyone you choose. If you share an album, you're asked to enter the email address of the recipients(or use the Address Book to select recipients) . You can write a brief message to be included in the email. The recipient can click on the link in the email and view all of the photos in that shared album. If they try to go anywhere else, they're asked for a login, so your other data is safe.  This is a great way to share pictures with others.  I've had people send me links to online photo album sites, but some of them make you create a login in order to see the pictures, and you have to get your pictures up there to begin with.  Why not let Sugarsync do it for you, and know that you have a backup at the same time?
If you're looking for a backup solution, what would make you choose Sugarsync over other options? Flexibility, redundancy and security, support for multiple PCs, dynamic syncing, and multiple pricing/storage plans.
Flexibility: Because Sugarsync is available from any computer with internet access, you can always get to your data. You have multiple options for how you'd like to store your data, i.e., as an archive or as dynamically synced files; you can choose to share picture albums with other people; you can maintain copies of your data in multiple places and always have the most recent version.
Redundancy/Security: If you're going to trust your data to an OSS, it's important for the OSS to provide physical redundancy of your data. This means multiple copies in multiple physical locations. According to Sugarsync's site, they provide two redundant data centers to backup all the copies of your data. They use SSL (secure socket layer) encryption for all data transfer, and 128-bit AES encryption once the data is stored on their servers.
Multiple PC Support: Do you have multiple PCs in your house that need to be backed up? Do you have the need to sync files between PCs at different locations? This is a very good option for that situation. I really found it simple to set up on all the PCs I have, and once it was done I didn't have to do anything.  I could also manage multiple PCs from one interface, which simplified things.
Dynamic Backup: One thing I liked about Sugarsync is that it is a dynamic backup. A home server may backup on a given schedule, but if it backs up at 3 am and your PC crashes at 5 pm, you've lost a day's work. Sugarsync will have synced your files throughout the day, so you'll have the most recent version of whatever you've done.
Multiple Pricing/Storage Options: Sugarsync offers multiple plans to meet your needs. The Starter plan gives you 10 GB of storage for $2.95/month; the other increments are 30, 60, 100, and 250 GB, and range from $4.99/month to $24.99/month.
What are the negatives of this service? Well, the obvious one is transfer speed. The initial syncing can take quite some time if you have a lot of files or a lot of large files, such as pictures, video, etc. The ongoing syncing is virtually instantaneous on my FIOS connection, but my daughter's PC, with several years worth of pictures of her and her friends, etc., took several hours to fully sync the first time, although it was happening while multiple other computers were connected to the internet. Performing this function at night would have been a better option. If you're on dial up, however, I would think even the ongoing syncing would be too slow to make this a good solution.
I'd like to see some improvements with the mobile interface, as noted above. They were smart enough to create a very simple mobile site, so it loads quickly, but the big push on their site for the mobile feature was for syncing photos, and that's just not working well. I would use the file interface, but the photo interface is too slow. I also found that if I left the application open on the phone, as I did while writing this, I would get a message telling me that I didn't have network coverage, so the interface was closing. Since I usually have all 4 bars on my phone, and have no issues with accessing other web sites, I'm not sure why this seemed to happen so frequently.
Overall, I was very impressed with this service.  With 4 computers in my house, the ability to sync all of them with no intervention from me, other than the initial setup, made this a great solution.  After you've installed and configured the Sugarsync Manager on each PC, it's also easily managed, because you can do it all from one computer.   While I was using for personal use, I can also see it being a good solution for a small business or home business, as it provides an easy means to have offsite, secure backup of your data.
Rating: