CastleCops.com has long hosted a number of databases essential for malware removal. These databases consist of information on components of wanted / potentially unwanted programs. They are especially useful when looking up suspicious entries in HijackThis logs. However, CastleCops has suffered from DDoS attacks and slow performance. Recently, its founder accepted a job with Microsoft, and the site has been unavailable for many days at a time. It's future is uncertain.
Enter Systemlookup.com, a new home for these community contributed databases, hosted by Javacool. Javacool is the author of SpywareBlaster and other helpful tools. Systemlookup.com has an attractive, clean design, is very fast, and advertising free. While it's still a work in progress, and new features are planned, it's very useful.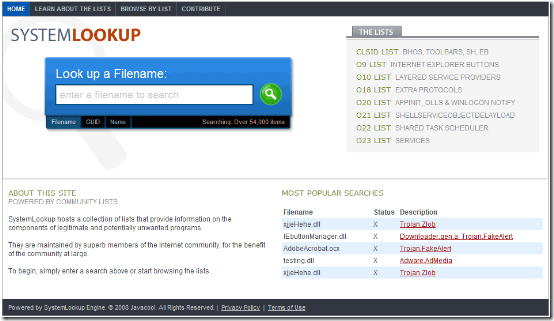 Whether you assist people remove malware, are curious about entries in your HijackThis log, want to learn more about what's running on your system, or even want to contribute a new item, be sure to bookmark Systemlookup.com!
SystemLookup hosts a collection of lists that provide information on the components of legitimate and potentially unwanted programs.
They are maintained by superb members of the Internet community, for the benefit of the community at large.