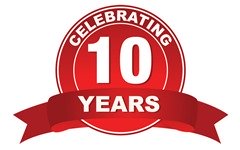 Wow, has it really been 10 years? While the domain had been registered earlier, the forum admin "Joined: 22-May 03". That's the day the forum was started, and the day I consider this site began. 10 years ago today! (Coincidentally, it's also my son's 5th birthday. Happy Birthday Hudson!) While I briefly considered making a big production of this 10-year milestone with contests and giveaways, I always hesitate to put too much focus on the site itself, and some temporary sponsors. This is really a story about our volunteers and the wonderful service that they provide.
Thanks to all the staff, moderators, teachers and admins. All of whom are volunteers, and a without whom this site would not be possible. You're all awesome!
It seems a good a time to recall some history, and how this site came to be. I remember being online, and reading an article on Forbes about one of the fastest growing franchises in the USA called 'Geeks on Call'. I was gainfully employed in sales, worked often from home, and really liked my job. But I always had a passion to learn more about computers (thanks mom and dad). I thought the on-site computer repair business model was a great concept, and started searching similar URLs on a whim. As I recall, geekstogo.com had just expired a few days earlier. I quickly registered it, and to my surprise, actually ended up owning it.