Submitter
File Information
Submitted: Feb 25 2011 12:43 AM
Last Updated: Dec 19 2019 09:28 AM
File Size: Unknown
Views: 1146857
Downloads: 394,602
Download RogueKiller latest version





8 Votes
scan
antimalware
malware
removal
antirootkit
rootkit
virus
cleaner

9
RogueKiller Anti-malware uses advanced layered engine to find and destroy any type of infection. Whether they are nasty threats like rootkits or just a basic adware (displaying ads) there is no place for them to hide. The scanner is free of use for searching and removing malware. The Premium version comes with a Malware Protection and a module to prevent your documents from being encrypted by Ransomware.
 
RogueKiller is available in 16 languages and a rich documentation is available to the user on the website adlice.com.
What's New in Version latest version (See full changelog)
http://download.adlice.com/api/?action=download&app=roguekiller&type=changelog
Screenshots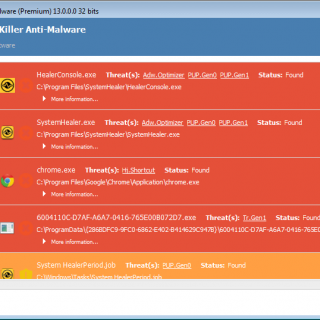 Other files you may be interested in ..
By kernel-panik

Jun 15 2019 06:40 AM
Random Files
By sUBs

Jul 12 2009 01:08 PM

By admin

Mar 04 2015 01:44 AM

By acomputergeek

Jul 25 2007 04:36 PM
13 user(s) are online (in the past 120 minutes)
0 members, 13 guests, 0 anonymous users
RogueKiller
As Featured On: