Submitter

Caliburn
View other files from this member
File Information
Submitted: Mar 30 2015 10:09 AM
Last Updated: Mar 30 2015 10:47 AM
File Size: Unknown
Views: 17613
Downloads: 2,589
Download TDSSKiller Latest





Kaspersky
Anti-rootkit

2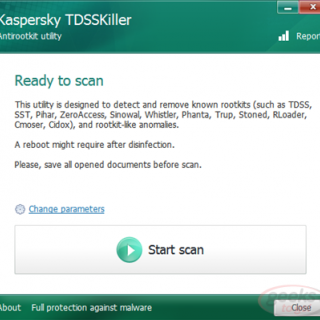 A rootkit is a program or a program kit that hides the presence of malware in the system.
A rootkit for Windows systems is a program that penetrates into the system and intercepts the system functions (Windows API). It can effectively hide its presence by intercepting and modifying low-level API functions. Moreover it can hide the presence of particular processes, folders, files and registry keys. Some rootkits install its own drivers and services in the system (they also remain invisible).
Kaspersky Lab has developed the TDSSKiller which allows removing rootkits. TDSSKiller will scan your system in only about 15 seconds.
How to use TDSSKiller
Doubleclick on TDSSKiller.exe to run the application, then click on Change parameters.

Check the boxes beside Verify Driver Digital Signature and Detect TDLFS file system, then click OK.

Click the Start Scan button.

If a suspicious object is detected, the default action will be Skip, click on Continue.

If malicious objects are found, they will show in the Scan results and offer three (3) options.
Ensure Cure is selected, then click Continue => Reboot now to finish the cleaning process.

Note: If

Cure

is not available, please choose Skip instead, do not choose

Delete

unless instructed.
A report will be created in your root directory, (usually C:\ folder) in the form of
"TDSSKiller.[Version]_[Date]_[Time]_log.txt"
.
Other files you may be interested in ..
By kernel-panik

Jun 15 2019 06:40 AM
Random Files
By Forerunner343

May 28 2015 02:39 PM

By Swandog46

Jul 14 2010 09:59 AM

By Flrman1

May 19 2006 07:57 PM
12 user(s) are online (in the past 120 minutes)
0 members, 12 guests, 0 anonymous users
TDSSKiller
As Featured On: