Joke of the Day
Started by
Resident_Blonde
,
Mar 21 2005 09:00 PM
#946
Posted 07 December 2011 - 05:00 PM




---
#947
Posted 17 January 2012 - 03:57 PM
When Grandma goes to court....

During a trial, a Southern small-town prosecuting attorney called his first witness, a grandmotherly, elderly woman to the stand. He approached her and asked, "Mrs. Jones, do you know me?" She responded, "Why yes, I do know you, Mr. Williams. I've known you since you were a boy, and frankly, you've been a big disappointment to me. You lie, you cheat on your wife, and you manipulate people and talk about them behind their backs. You think you're a big shot when you haven't the brains to realize you'll never amount to anything more than a two-bit paper pusher. Yes, I know you."

The lawyer was stunned. Not knowing what else to do, he pointed across the room and asked, "Mrs. Jones, do you know the defense attorney?"

She again replied, "Why yes, I do. I've known Mr. Bradley since he was a youngster too. He's lazy, bigoted, and he has a drinking problem. He can't build a normal relationship with anyone, and his law practice is one of the worst in the entire state. Not to mention he cheated on his wife with three different women. One of them was your wife. Yes, I know him."

The defense attorney nearly died.

The judge immediately demanded that both attorneys approach the bench and, in a very quiet voice, said,
"If either of you idiots asks her if she knows me, I'll send you both to the electric chair."

---
#948
Posted 18 January 2012 - 12:08 AM
you all guys are really stupid..i think all are also jokers..hehehehehe

---
#949
Posted 23 January 2012 - 05:12 AM
The engineers mistake:
A priest, farmer, and engineer are sentenced to life sentence. They pull out the guillotine and prime it. The priest is first, and says his farewells. The man rests his head, and the other pulled the cord. Amazingly, the blade stayed in place! The farmer is up next, and the same result. The leader, surprised, says,"This must be a Sign from God that these men are innocent!" The engineer is up next. And before it is pulled, he states,"Well, theres your problem!".

---
#950
Posted 26 January 2012 - 11:57 PM
Here are some blonde jokes.(P.S I like blonde people in real life)
1)
Q: How do you make a blonde laugh on Friday?
A: Tell the blonde a joke on Tuesday!

2)
Once there was a blonde that was tired of being called a dumb blonde
so she died her hair brown. One day while she was walking she saw a
sheep farm she usually sees when she goes on her daily walk. She
noticed that the farmer was out there grazing the sheep and decided to get a free sheep
from him by playing a game.
She walks up to him and says, "Hey, if I guess how many
sheep you have can i have one?"
The famer says, " Yeah sure, go ahead."
So she says, " 137" and then she picks up one of the sheep.
The farmer replies, "Wow, how'd u guess?"
Blonde: "Oh just a good guess."
Farmer: "wait, if i guess your real hair color will u give me bak
my sheep?"
Blonde: "ok, shoot"
Farmer: "your a dumb blonde."
blonde: "yeah how'd you know?"
farmer: "oh just a good guess, now can you give me back my DOG!"

3)
One day a blond walked in to electronics store, looks around and walks
up to the cashier and says "Sir i want to bye this tv." The cashier says"
We don't sell to blonds."So the blond walks to the wig store across the
street and gets a brown wig and goes back to the store and walks to
the cashier and says the same thing. The cashier said "we don't sell to
blonds." She walks back to the wig store and gets a red wig and goes
back to the stor and says the same thing. The cashier said "We don't
sell to blonds!" The blond screams out "I came with 3 hair colors and
you still knew I was a blond! How did you Know???"The cashier
said "Because that is not a tv it is a microwave"

Edited by greenwarrior, 27 January 2012 - 12:07 AM.
---
#951
Posted 27 January 2012 - 12:12 AM
This one is a killer joke:
Dear Dad letter....
A father passing by his son's bedroom, was astonished to see the bed was
nicely made, and everything was picked up. Then, he saw an envelope,
propped up prominently on the pillow. It was addressed, 'Dad.' With the
worst premonition, he opened the envelope and read the letter, with
trembling hands.
'Dear, Dad. It is with great regret and sorrow that I'm writing you. I
had to elope with my new girlfriend, because I wanted to avoid a scene
with Mum and you.
I've been finding real passion with Stacy, and she is so nice, but I
knew you would not approve of her, because of all her piercing's,
tattoos, her tight Motorcycle clothes, and because she is so much older
than I am.
But it's not only the passion, Dad. She's pregnant. Stacy said that we
will be very happy. She owns a trailer in the woods, and has a stack of
firewood for the whole winter. We share a dream of having many more
children.
Stacy has opened my eyes to the fact that marijuana doesn't, really hurt
anyone. We'll be growing it for ourselves, and trading it with the other
people in the commune, for all the cocaine and ecstasy we want.
In the meantime, we'll pray that science will find a cure for AIDS, so
Stacy can get better. She sure deserves it!
Don't worry Dad, I'm 15, and I know how to take care of myself. Someday,
I'm sure we'll be back to visit, so you can get to know your many
grandchildren.
Love, your son, Joshua.
P.S . Dad, none of the above is true. I'm over at Jason's house. I just
wanted to remind you that there are worse things in life than the school
report that's on the kitchen table.
Call when it is safe for me to come home!



Edited by greenwarrior, 27 January 2012 - 12:13 AM.
---
#952
Posted 29 January 2012 - 10:16 PM
@greenwarrior

---
#953
Posted 27 February 2012 - 06:34 PM
Two monkeys in a bath.

1st monkey says "OO,OO,AA,OO."

2nd monkey says "Well, put some more cold in."

---
#954
Posted 22 March 2012 - 08:59 PM
Recently on a routine police patrol parked outside a local neighborhood bar the officer noticed a man leaving the bar so intoxicated that he could barely walk. The man stumbled around the parking lot for a few minutes with the officer quietly observing.

After what seemed an eternity and trying his keys on five different vehicles, the man managed to find his own car which he fell into. He was there for a few minutes as a number of other patrons left the bar and drove off.

Finally he started the car, switched the wipers on and off (it was a dry night), flicked the hazard flasher on and off, tooted the horn, and then switched on the lights. He moved the vehicle forward a few inches, reversed a little, and then remained stationary for a few more minutes as more patrons left in their vehicles. At last he pulled out of the parking lot and started to drive slowly down the street.

The police officer, having patiently waited all this time, now started up his patrol car, put on the flashing lights, promptly pulled the man over and carried out a breathalyzer test. To his amazement, the breathalyzer indicated no evidence of the man having consumed alcohol at all!

Dumbfounded, the officer said, "I'll have to ask you to accompany me to the Police Station. This breathalyzer equipment must be broken."

"I doubt it," said the man, "Tonight, I'm the designated decoy."

---
#955
Posted 08 April 2012 - 11:35 AM
Hm...what to do if you have leftover Easter Egg dye?
Oh...I know!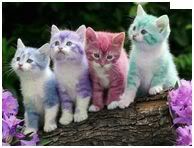 ---
#956
Posted 08 April 2012 - 11:39 AM
---
#957
Posted 08 April 2012 - 11:41 AM
While taxiing at London Gatwick, the crew of a US Air flight departing for Ft. Lauderdale made a wrong turn and came nose to nose with a United 727.
An irate female ground controller lashed out at the US Air crew,
screaming: "US Air 2771, where the [bleep] are you going! I told you to turn right onto Charlie taxiway!
You turned right on Delta! Stop right there.
I know it's difficult for you to tell the difference between 'C' and 'D', but get it right!"
Continuing her rage to the embarrassed crew, she was now shouting hysterically:
"God! Now you've screwed everything up! It'll take forever to sort this out!
You stay right there and don't move till I tell you to!
You can expect progressive taxi instructions in about half an hour,
and I want you to go exactly where I tell you, when I tell you, and how I tell you!
You got that, US Air 2771?"
"Yes ma'am," the humbled crew responded.
Naturally, the ground control communications frequency fell terribly silent after the verbal bashing of US Air 2771.
Nobody wanted to chance engaging the irate ground controller in her current state of mind.
Tension in every cockpit out in Gatwick was definitely running high.
Just then an unknown pilot broke the silence and keyed his microphone, asking:

"Wasn't I married to you once?"

---
#958
Posted 08 April 2012 - 11:46 AM
I'm calling PETA!


You're no fun!

Edited by DonnaB, 08 April 2012 - 11:49 AM.
---
#959
Posted 10 April 2012 - 02:08 PM
I told a joke about chemistry before but there was no reaction!

---
#960
Posted 06 May 2012 - 10:53 AM
I told a joke about chemistry before but there was no reaction!

Was it a joke?

Somebody wasn't paying attention in chemistry class.
WINNER: Wet T-Shirt contest
and you were expecting ...?!
---
---
Similar Topics
1 user(s) are reading this topic
0 members, 1 guests, 0 anonymous users
As Featured On: