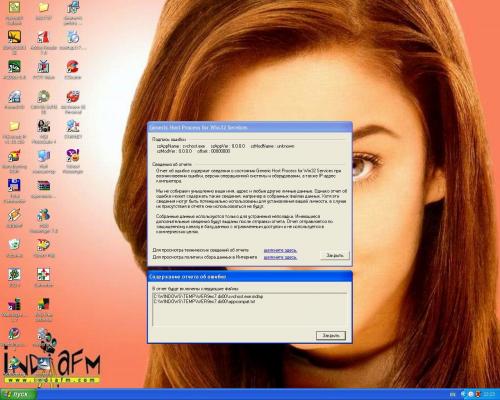 Writing on behalf od a friend in Eastern Europe with a 10 hr. time differential.
O/S is Win XP Home-SP2.
She advises that she periodically gets the following error message
'Generic Host Process for Win 32 series has encountered a problem and needs to close'
.
She is presented with a Microsoft error reporting window and after she does so, the error message screen disappears and nothing else happens. That is to say the PC does not shut down.
She has sent me a screen shot of both error messages which i am appending to this post.
The language is Russian however the tech details which I will post are in Englsih.
Error Message Screen
sz AppName svchost.exe szAppVer 0.0.0.0 sz Mod name Unkown sz Mod ver 0.0.0.0 offset 00000000
Technical details
c:\windows\TEMP\WER9ec7.dir00\svchost.exe.mdmp
c:\windows\TEMP\WER9ec7.dir00\appcompat.txt
I have read on some of the issues surrounding these and advise that she does not have HP printer, but has Nero Software burning installed.
I would appreciate being advised as to a fix.
As I am precluded from telephone communication, I would appreciate recieving step by step instruction to reslove as I will be C&P in an email to her.
Thank you n advance.
david williams