Hello Fellow Geeks,
I just want to compare my ISP to the others out there. Go to
this link
and select the Yellow Triangle (AKA Recommended Server) and perform the test. When it is done Scroll down to the "Share your Results" and copy down the third link and post it back as a link, or post it in a .jpeg screenshot (whichever you prefer). Please include your ISP's name and location and whether it is DSL, Dial-up, or Cable. Thanks.
Here is mine: Cox Communications Oklahoma City, OK (Cable)
Like this... as a link
http://www.speedtest...lt/57370295.png
Or Like this... as a screenshot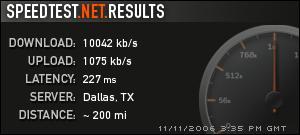 Edited by SpaceCowboy706, 11 November 2006 - 09:45 AM.