How-to remove Spydawn (removal instructions)
SpyDawn is a rogue anti-spyware program. DO NOT purchase Spydawn, remove it! SpyDawn is usually installed on your system without permission, via a trojan. SpyDawn attempts to look like a legitmate malware applications, and will display fake security alerts and/or notifications to trick user to buy the paid version.
Spydawn Screenshot: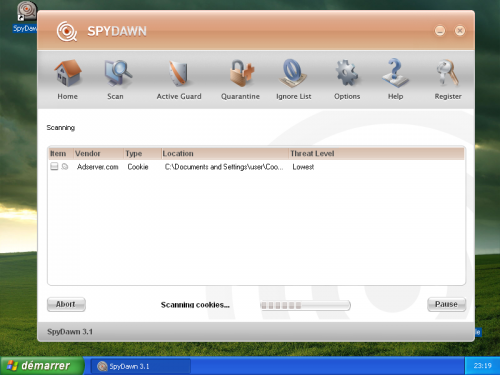 Spydawn Removal Instructions:

Step 1:
Download:
Use this URL to download the latest version (the file contains both English and French versions):
http://siri.geekstog...mitfraudFix.exe

Mirrors: Alternate official download locations for Smitfraudfix.exe
http://siri.urz.free...mitfraudFix.exe
http://telechargemen...itfraudfix.html



Search:

Double-click smitfraudfix.exe
Select 1 and hit Enter to create a report of the infected files. The report can be found at the root of the system drive, usually at C:\rapport.txt

Clean:

Reboot your computer in Safe Mode (before the Windows icon appears, tap the F8 key continually)
Double-click smitfraudfix.exe
Select 2 and hit Enter to delete infect files.
You will be prompted: Do you want to clean the registry ? answer Y (yes) and hit Enter in order to remove the Desktop background and clean registry keys associated with the infection.
The tool will now check if wininet.dll is infected. You may be prompted to replace the infected file (if found): Replace infected file ? answer Y (yes) and hit Enter to restore a clean file.
A reboot may be needed to finish the cleaning process. The report can be found at the root of the system drive, usually at C:\rapport.txt

Optional:

To restore Trusted and Restricted site zone, select 3 and hit Enter.
You will be prompted: Restore Trusted Zone ? answer Y (yes) and hit Enter to delete trusted zone.
Note:
process.exe
is detected by some antivirus programs (AntiVir, Dr.Web, Kaspersky) as a "RiskTool". It is not a virus, but a program used to stop system processes. Antivirus programs cannot distinguish between "good" and "malicious" use of such programs, therefore they may alert the user.
http://www.beyondlog...processutil.htm
Optional:
Use this step only if your computer still seems infected:
Step 2:
Reboot your system back into Normal Mode and perform an online scan with

Panda ActiveScan
Once you are on the Panda site click the Scan your PC button.
A new window will open...click the Check Now button.

Enter your Country
Enter your State/Province
Enter your e-mail address and click send
Select either Home User or Company
Click the big Scan Now button

If it wants to install an ActiveX component allow it
It will start downloading the files it requires for the scan

(Note: It may take a couple of minutes)

When the download is complete, click on Local Disks to start the scan
When the scan completes, if anything malicious is detected, click the See Report button, then Save Report and save it to a convenient location.

To confirm that Spydawn is removed from your computer
Post the contents of the
Panda ActiveScan
report, along with a new
HijackThis Log
, the contents of
smitfiles.txt
in a new Topic in the
Malware Removal Forum
=====================================================================
This is a self-help guide. Use at your own risk.
Important Note: If you need assistance with Spydawn, please start a new topic in our Malware Removal Forum
.