How did you get your nick?
Started by
admin
,
Jul 18 2007 11:05 AM
#481
Posted 04 January 2013 - 11:27 AM
My all time favorite Nintendo character plus I like squid so that's how I got mine.

---
#482
Posted 05 January 2013 - 04:21 AM
I once had an Alsation who when he was a small pup looked like a mole and when he got older looked like a wolf hence.......

---
#483
Posted 11 January 2013 - 04:46 AM
Veeg was coined by Cobracon,i guess he liked it better than vger..
Edited by Veeg, 11 January 2013 - 04:47 AM.
---
#484
Posted 13 March 2013 - 02:21 PM
PBHRescue... Stands for Pit Bull Happenings Rescue (PBHR)... I founded PBHR on October 15, 2010. PBHR is a 501c3 Not-for-Profit Organization. We're very small but doing great things. We are educating the masses in respect to the American Pit Bull Terriers... and are rescuing what most (and wrongly) refer to "Pit Bulls"... although, we've rescued many off breeds such as labs, boxers, lots of hound dogs, rhodesian ridgebacks, etc... So, I pretty much use PBH Rescue for all my handles... or Pit Bull Happenings... my twitter is @PBHRescue

---
#485
Posted 20 March 2013 - 03:28 PM
Vainius is my name

And it's so rare that there's no need for exclusive nickname

---
#486
Posted 20 March 2013 - 05:11 PM
Here goes...
At one time I was a Army Sniper, Dakeyras is the given name of a fictional character whom happened to be a assassin from a series of books by the late author David Gemmell.
Amused my sense of daft humour to choose it, not particularly original with hindsight as many do use it online but highly doubt many have for my reason and or actually associated with Anti-Malware support.

As the meerkat says...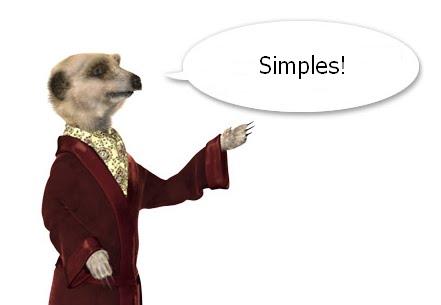 ---
#487
Posted 21 March 2013 - 03:02 PM
I always assumed that it was a drunken attempt to spell Maracas what with you being musical and all.

---
#488
Posted 22 March 2013 - 05:04 AM
Good one, that amused myself old bean.

---
#489
Posted 23 March 2013 - 11:41 PM
My first name is Terry. When I was growing up I had an uncle who had a habit of hanging nicknames on his nieces and nephews. Usually his nickname would be the opposite of what you would think so with me being real small he tagged me with Moose over 50 years ago and I still have family that call me Moose. A lot of them even throw the Terry in first - hence, Terrymoose.

---
#490
Posted 26 March 2013 - 02:10 AM
i was able to watch a circus many years ago where the strongman was wearing some clown makeup (yes while carrying a barbell). The entire thing stuck in my mind and I still remember it. Really scared me since then.


---
#491
Posted 26 March 2013 - 04:10 AM
I got my nickname here from Star Trek. I'm starting to watch all the episodes and I think the character is pretty interesting.

---
#492
Posted 01 April 2013 - 01:00 AM
Shatto is my last name, pretty simple though most other places my nick is Shadow or ShadowShatto, Shadow simply being a mispronunciation of my last name.

---
#493
Posted 02 April 2013 - 03:01 AM
My name is Latrell. I'm a fan of lateral drifting and that's how I got my nickname.

---
#494
Posted 30 April 2013 - 07:39 PM
It's my name. Except the extra 'y' at the end, the name is taken so I had to add it.

---
#495
Posted 31 May 2013 - 04:07 AM
I like arabian and jihad, simple

---
---
Similar Topics
0 user(s) are reading this topic
0 members, 0 guests, 0 anonymous users
As Featured On: