Hi,
I am using yahoo mail and since this morning I am unable to view anything in many of my emails. It has happened twice since this morning.
All the emails entries are being displayed as normal in inbox including the size and attachment icon if there is any.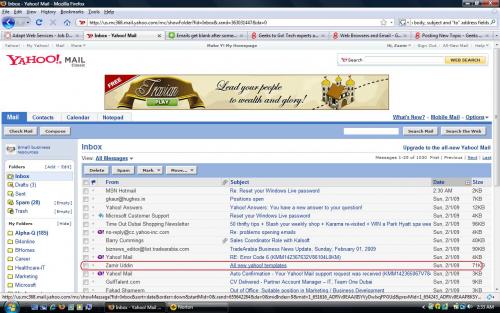 But when I click on any email to open it, it is shown as blank with "no email subject" and in "TO" field it says.. "Un-disclosed recipient"...
However, the FROM field is showing the sender email address as normal.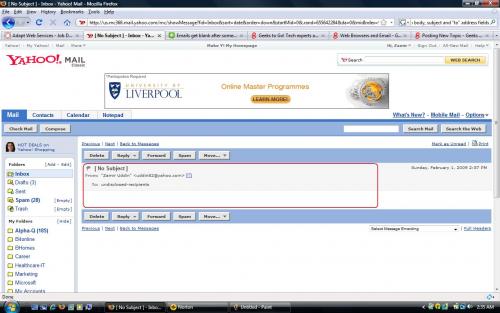 When an email is first received, it is opened without any problem, but after some time when I try to open the same email message again, it opens up as empty email (like the one in above image) with above mentioned symptoms. I've checked everything... I am not logged in from any other location, I am not using multiple yahoo windows, I am not logged in to yahoo from any mobile device. I have also tried to open these emails from other computers, but no use. I have checked IE7, firefox and google Chrome, the problem is the same on all these browsers that means the problems is not at my end.
It seems that those email details are lost on yahoo servers. I really need to reply to some of my emails regarding job applications but they are not loading at all. When I try to reply or forward these empty messages, ERROR CODE 6 comes up with other tips and details. I have already tried those tips but no use.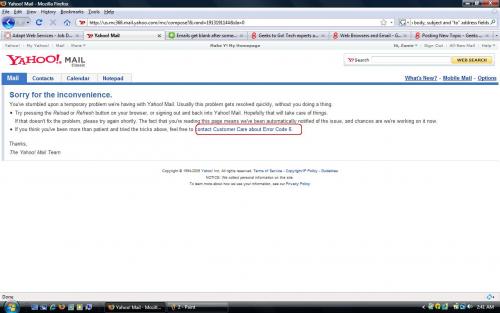 I have checked every folder, and it is happening in all of them including SENT folder. I have also tried switching to ALL NEW YAHOO mode, it is happening there as well. Again I switched back to CLASSIC mode, but the problem is still there. I have also tried sending the same details to yahoo customer support using their problem reporting forms but they haven't replied yet.
Note: This thing is happening since this morning (10:00am UAE time. 1-Feb-2009) and happened first time ever.
Please help.
XAMIR