Spyware Protect 2009 is fake security software
that's goal is to make you purchase the program in order to remove the "infections" it detects. These Spyware Protect 2009 fake error messages can be in the system bar, browser, popup. Don't buy Spyware Protect 2009! Remove Spyware Protect 2009! This infection is often the result of Downad.KK/Conficker.C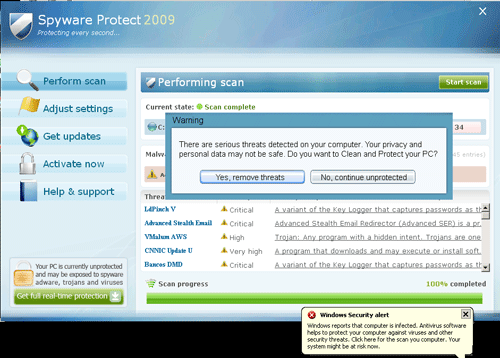 To remove Spyware Protect 2009, please download
Malwarebytes' Anti-Malware
from
Here
.
Double Click mbam-setup.exe to install the application.
Make sure a checkmark is placed next to Update Malwarebytes' Anti-Malware and Launch Malwarebytes' Anti-Malware, then click Finish.
If an update is found, it will download and install the latest version.
Once the program has loaded, select "Perform Quick Scan", then click Scan.
The scan may take some time to finish,so please be patient.
When the scan is complete, click OK, then Show Results to view the results.
Make sure that everything is checked, and click Remove Selected.
When Spyware Protect 2009 disinfection is completed, a log will open in Notepad and you may be prompted to Restart.(See Extra Note)
Extra Note:
If MBAM encounters a file that is difficult to remove,you will be presented with 1 of 2 prompts,click OK to either and let MBAM proceed with the disinfection process,if asked to restart the computer,please do so immediatly.
=====================================================================
This is a self-help guide. Use at your own risk.
Important Note: If you need assistance with Spyware Protect 2009 removal, please start a new topic in our Malware Removal Forum
.