I'm sorry if this is not in the right area, but I wasn't sure where to post this.
About 4 days ago, a few times when I tried to do a google search, I would be taken to a screen like this one, where I'm asked to verify that I am not a robot: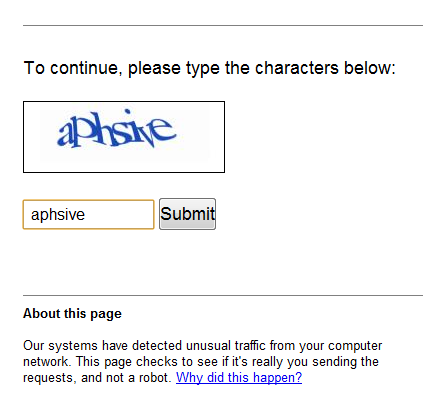 I wasn't doing any more google searches than I normally was. But it kept coming up, sometimes even after I filled in the captcha. This is on both Google Chrome, and Firefox.
I scanned with Avast. It found two infections, but I also did a boot scan, which found significantly more. about 19 or so. I put them all in quarantine. I also scanned with Malwarebytes and Spybot S&D, which also found a few infections. I put them in quarantine, and tried to fix the ones in Malwarebytes. Later scans didn't reveal any more infections. But the google notice continues.
MY operating system is Windows XP. The computer is a Dell, one I got from my sister's office after they decided to get new computers.
The computer is somewhat slow while I'm online. And I have noticed it is turned on in the morning, even if I've turned it off before I've gone to bed. This is something my sister had noticed as well when she was using it, but she didn't know what the reason for that would be, and I'm not sure if this is related to my current problem, or if it is another problem altogether.
Any help would be appreciated.