A few days before Christmas, my laptop suddenly froze and when to the "Aptio Setup Utility" screen. After exiting and saving, I was able to shut-down the computer and then launch windows normally. This continued on and Asus Laptop Stuck on Aptio Setup Utility Screenoff for two days, my laptop would freeze and I would "save and exit" in the Aptio Setup utility and relaunch windows as normal. After two days, the computer got stuck completely at the "Aptio Setup Utility" screen and choosing save and exit just relaunches back into the "Aptio Setup Utility" screen in a loop. I have tried 2 methods to fix it.  I tried the completely draining the battery by keeping the laptop on ( I didn't take it out of the laptop though) and that also relaunches back into the "Aptio Setup Utility" screen. I have also tried disabling "Secure boot Control" and enabling "Launch CSM" but that just takes me to a black screen saying "Reboot and Select proper Boot device or Insert Boot Media in selected Boot device and press a key".  
Make and full model number of the laptop:
Asus UX301L NotebookPC (Windows 8.1/Intel Core I7)  
What I was doing when it stopped working:
using Skype  
In answer to some common questions:  
Have you made any hardware changes?
No
Have you dropped or banged your laptop. ?
No
Does the LED blink?
I dont have an LED
Does it detect the hard drive?
Under the "SATA Configuration" it seems to be detecting the two hard drives.
Do you have a restore disk?
Unfortunately Not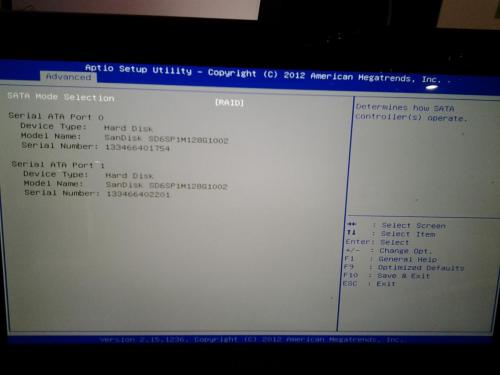 Edited by Kikgirlll23, 06 January 2016 - 02:32 PM.