I need some help with a mystery.  I have a LSI MegaRAID 9260 8i RAID controller.  I have four 2TB drives in RAID 0 that report correctly in windows.  I also have two 6TB drives in RAID 1.  I expanded the RAID 1 with two more 6TB drives and migrated it to RAID 6.  This should provide me with 10TB of space.
I did the expansion via the MegaRAID Storage manager.  The Storage manager shows 10TB of space and it's all optimzed,
Here are two pictures showing my MegaRAID Storage Manager and the issue on windows 10.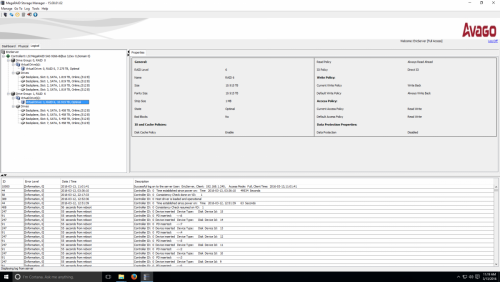 Windows seems to not be reporting properly.  I've restarted the machine several times, and I haven't been able to get it to correctly report the size.  I want to avoid destroying the RAID and rebuilding it if I can to get it to report.  I have plans to expand an additional 4 disks in the future (eventually destroying or migrating the RAID 0 to another RAID Card).
Has anyone seen this before, or does anyone know how to fix this issue?
Thanks!