Need a way to Manage Internet Explorer's Zones?
If so, then
ZonedOut
is for you. Add, Delete, Import, Export, Build a WhiteList and More: Now includes Restricted, Trusted and Intranet Zones.
Important Notes:
Known Issue (all versions) -If you have by chance "immunized" your computer with Spybot Search and Destroy, and use ZonedOut to "Remove All" restricted sites - ZonedOut will remove your trusted sites as well. Note that if you remove Spybot Search and Destroys Immunization the problem goes away...
New:
ZonedOut operates on the HKEY which windows is defaulting to. Generally, out of the box, windows is set to use the "Current User" HKEY. If your windows has been tweaked to default to the "Local Machine" HKEY, then ZonedOut will work from there. Information on this tweak can be found here:
http://www.winguides...splay.php/1133/
General Usage Notes:
Installing
- Put ZonedOut.exe in its own directory. There is no installation. Simply delete the directory to "uninstall"
Selections
-In the List Controls, holding Ctrl while selecting allows for multiple line selection. Shift will allow you to select in groups.
White List and Import, Export files
- These are plain text files that can be edited with an external editor. The White List ("zwhite.txt") can be imported just like any other file.
Remarks
-Text files for import can contain Remark lines - they are designated by "**" - two asterisks.
More Info & Download:
ZonedOut @ funkytoad.com»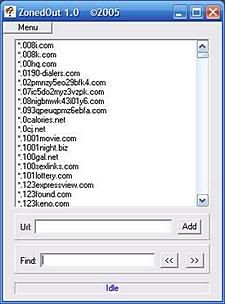 [written by Toadbee/Gladiator Security Forums]