How-to remove VirusRescue, SpyAxe, SpywareStrike, SpySheriff, Winhound and Smitfraud using noahdfear's smitRem.exe removal toolSpyAxe: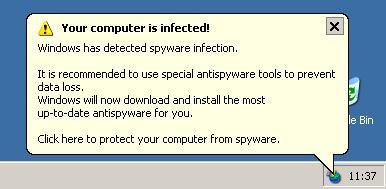 SpywareStrike: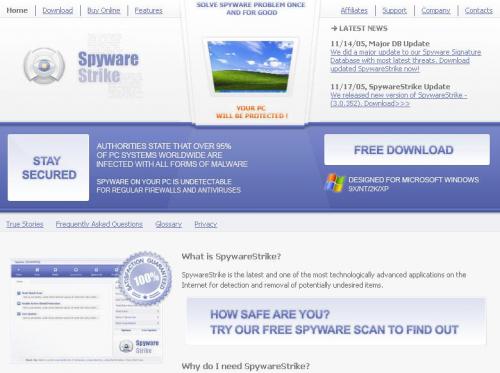 SpySherriff:

Winhound: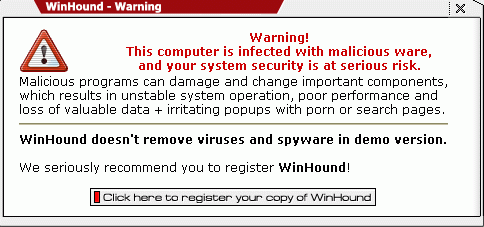 Smitfraud:

Will also remove: PestTrap, Security IGuard, SearchMaid, Antivirus Gold (AVGold), PSGuard, VirtualMaid, SpyTrooper, VirusRescue and others in the smitfraud family.
Credit: noahdfear
1. Download
smitRem.exe
©noahdfear, and save the file to your desktop.
Double click on the file to extract it to it's own folder on the desktop.
2. Place a shortcut to
Panda ActiveScan
on your desktop.
3. Please download
AVG Anti-Spyware Free Edition
here:
http://free.grisoft.com/doc/downloads-products/us/frt/0?prd=asf
Please read
AVG Anti-Spyware Setup Instructions (formerly Ewido)
Install it, and update the definitions to the newest files. Do
NOT
run a scan yet.
4. If you have not already installed Ad-Aware SE 1.06, follow these download and setup instructions, otherwise, check for updates:
Ad-Aware SE Setup
Don't run it yet!
5. Next, please reboot your computer in
SafeMode
by doing the following:
Restart your computer
After hearing your computer beep once during startup, but before the Windows icon appears, press F8.
Instead of Windows loading as normal, a menu should appear
Select the first option, to run Windows in Safe Mode.
6. Open the
smitRem
folder, then double click the
RunThis.bat
file to start the tool. Follow the prompts on screen.
Wait for the tool to complete and disk cleanup to finish.
The tool will create a log named
smitfiles.txt
in the root of your drive, eg; Local Disk C: or partition where your operating system is installed.
7. Open Ad-aware and do a full scan. Remove all it finds.
8. Run Ewido:
Click on scanner
Click on Complete System Scan and the scan will begin.
While the scan is in progress you will be prompted to clean files, click OK
When it asks if you want to clean the first file, put a check in the lower left corner of the box that says "Perform action on all infections" then choose clean and click OK.
Once the scan has completed, there will be a button located on the bottom of the screen named Save report
Click Save report.
Save the report .txt file to your desktop.
Close ewido anti-malware.
9. Next go to
Control Panel
click Display > Desktop > Customize Desktop > Web > Uncheck "
Security Info
" if present.
10. Reboot back into Windows and click the
Panda ActiveScan
shortcut.
Once you are on the Panda site click the Scan your PC button.
A new window will open...click the Check Now button.

Enter your Country
Enter your State/Province
Enter your e-mail address and click send
Select either Home User or Company
Click the big Scan Now button

If it wants to install an ActiveX component allow it
It will start downloading the files it requires for the scan

(Note: It may take a couple of minutes)

When the download is complete, click on My Computer to start the scan
When the scan completes, if anything malicious is detected, click the See Report button, then Save Report and save it to a convenient location.
If anything suspicious is found, or any problems persist, please post the contents of the Panda scan report, along with a
HijackThis Log
, the contents of
smitfiles.txt
and the
Ewido Log
in our
Malware Removal Forum
.
Have you've found the smitRem.exe removal tool useful? Please consider a donation to the author:
Dave's World
(noahdfear).
Notes:
1. For 98/ME, add to the control panel instructions (step 11) as follows: (thanks
flrman1

)
Remove the check by "View my Active desktop as a web page".
Click
OK
then
Apply
and
OK
.
2. It could be possible, after reboot that the system is using the windows classic theme again.
To restore this and set it back to XP-theme, rightclick on your desktop > properties > tab Appearances and choose Windows XP style again under windows and buttons.
Click apply and OK.
3. Windows 98 users may get a sharing violation error and smitRem stops when trying to delete oleadm.dll (oleext.dll). This is because it's hooked by the infected wininet. Pressing F will allow the tool to complete.
=====================================================================
This is a self-help guide. Use at your own risk.
Important Note: If you need assistance, please start a new topic in our Malware Removal Forum. This topic is also open for comments, but not all will receive a reply.