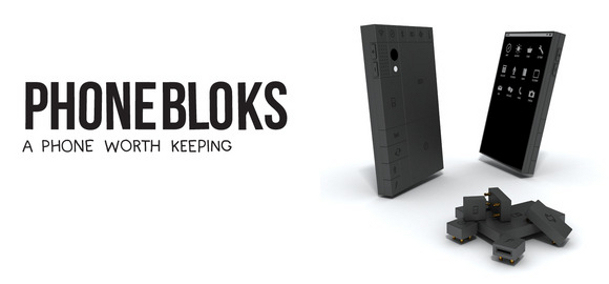 Phonebloks is a Thunderclap project started by Dutch Engineer David Hakken that might just be the next big thing in the mobile industry. A phone only lasts a couple of years before it breaks or becomes obsolete. Even if just a part of it failed us, we'll have to make it an expensive paper weight.  Phonebloks is all about solving this problem, in an unusual, yet innovative and possibly viable way. Phonebloks is made of detachable bloks. The bloks are connected to the base which locks everything together into a solid phone. If a blok breaks you can easily replace it; if it's getting old just upgrade. David Hakken has publicized this project as an attempt to reduce e-Waste.
And guess what it has a store all for itself. The Blokstore. It's like an app store for hardware. In the store you buy your bloks, read reviews and sell old bloks.
Motorola has shown keen interest in Phonebloks. The company's Advanced Technology and Projects (ATAP) team went public with its one-year-old Ara Project (it's own version of upgradable smartphones) after agreeing earlier this month to partner with Phonebloks. Now with Hakken as its new face, Motorola's Ara project aims to bring some substance to Hakken's arguable pipe dream, and "do for hardware what the Android platform has done for software."
Martin Cooper, the inventor of the cell phone, told CNN that while the Phonebloks concept is 'well-meaning' he suspects it will never become a reality: "the main reason that the Phonebloks will not hit the market as it will cost more, be bigger and heavier, and be less reliable. By the time it could be brought to market, the problem that engendered it will be gone."
He might be right, but there's always two sides to a coin.
Why I think it could work?
People love customizing their phones! The time of software upgrades, rooting & jailbreaking could be history.
If it's physically possible, it might be bigger than the huge leap forward Capacitive touch screens were, when they first arrived.
As a student, we can get tight on the pocket, we could settle for the default and upgrade later!
Why I think it might not work?
The phone could get too bulky
It might succeed as a concept, but to surpass the impact that the iPhone or Galaxy's have in day to day work might be too much of a task.
Google Play is a key factor to the success of Android. As for the Blokstore, a store with a very small number of bloks could lead its way to doom. I don't think there could be bloks enough to satisfy consumer needs.
It will be as expensive as hell.
Let's see where it goes from here.