13- System Configuration Utility Page will place a message Box on screen
14- Check – Do not show this message or Launch Confiuration Utility when Window Starts –
This did not occur on restart - posssibly because I didn't have to check or uncheck any boxes in System Configuration Utility - it was all as specified.
Standard Process to Open [DEVICE MANAGER] with [Show Non-present Devices] Option set -

(1) – Right Click [MY COMPUTER]
(2) – Browse down [Menu] to [Properties] > Double Click to Open Properties Page
(3) – Click on [HARDWARE] Tab
(4) – Click on [Device Manager] Tab
(5) – Click on [View} on Menu Bar
(6) – **Click on [Show Hidden Files]**
RE (6) Do you mean show Hidden Devices (there is no show hidden files, but devices makes more sense anyhow)?
Now can you Post several – Snapshots – of what Device Manager is now showing – on USB Devices – Mass Storage – Disk Drives -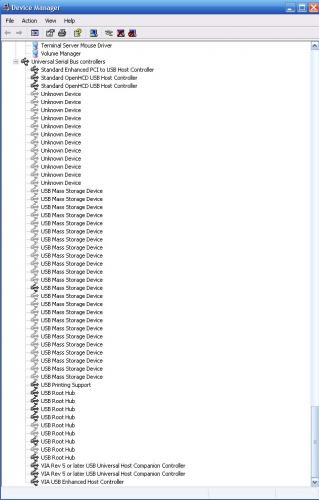 You can Double Click – Root HUBS] to open Property Pages - & click on [Power] Tab for more info –
See if your – USB Drive shows up as a – Non Present Device – and your Flash Drive –
First, second and fourth hubs>proerties>power look like this: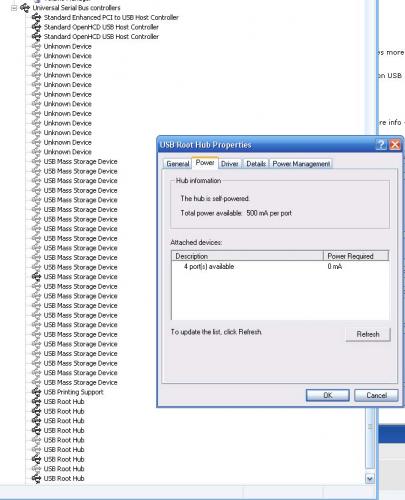 the 3rd hub looks like this: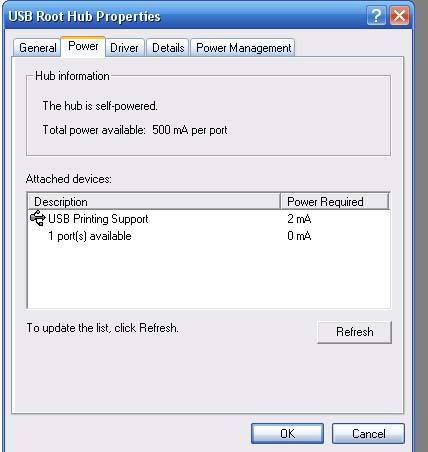 I'll post the rest in the next posting as I've used up attachment data allocation cap.